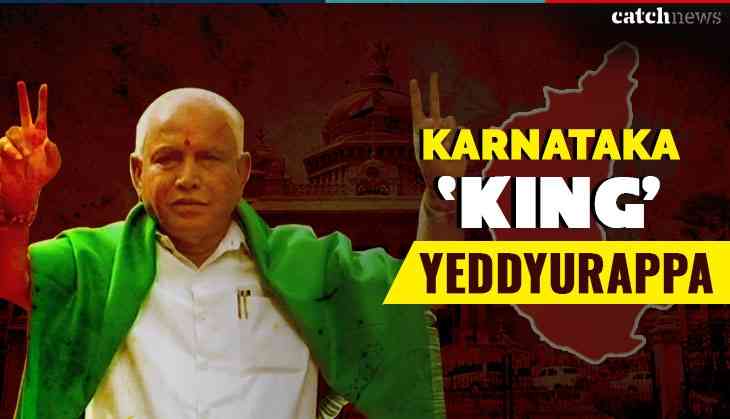 After a final attempt by the Congress to stop the BJP leader Yeddyurappa from taking the oath as Karnataka CM, they got failed. The Supreme Court of India has given its judgement that they cannot interfere in the decision of Governor because it is completely unconstitutional. Therefore, today at 9 am, Yeddyurappa has taken the swearing-in as a 23rd Karnataka CM.
But, still, there is a threat to his chair because the apex court has asked to give a majority list of his supporters in the next 24 hours. However, it is not easy for the BJP to submit a list of 112 MLAs list. Therefore, it is a big challenge to prove Yeddyurappa a majority.
Earlier, during the Karnataka Assembly Election results, BJP has got 104 seats on 222 seats, which is less than 8 MLAs with the majority. However, Congress got 78 and JD(S) 37, BSP 1 and others got 2 seats in the results. Considering the results, BJP emerged as the largest party but, still, it is far from the majority. At the same time, Congress and Janata Dal (Secular) joined together and made an alliance after the results have come to an end.
While the BJP has claimed to form the government just because of the biggest party. JD(S) and Congress claimed to form the coalition government with having a substantial number of MLAs. Later, the key has been transferred in the hands of Governor Vajubhai Vala to tell who will form the government in the state. Finally, he had invited BJP to form the government in the state on 16th May evening. Vajubhai also the 15 days time to Bhartiya Janata Party to prove their majority in the next 15 days.
After Governor's decision, Congress reached the Supreme Court to take the stay on the oath ceremony of Yeddyurappa on Wednesday night. There was an argument for about three and a half hours in the court. The apex court announced its decision and refused the stay order petition of Congress and gave the big relief to BJP only for some time. However, the hurdles have not removed from the path of Yeddyurappa because court demanded the letter from BJP which was given by the Governor. The matter will now be heard again on 18th May at 10:30 am. In that case, Karnataka newly elected CM will have to give a list of its 112 legislators. However, the leader had already 104 MLAs but, getting the support of other 8 MLAs is big trouble for him.
Watch Video:
Also read: Karnataka CM oath ceremony Updates: BJP's BS Yeddyurappa sworn-in as the 23rd CM of the state; Congress, JD(S) protest outside Raj Bhavan