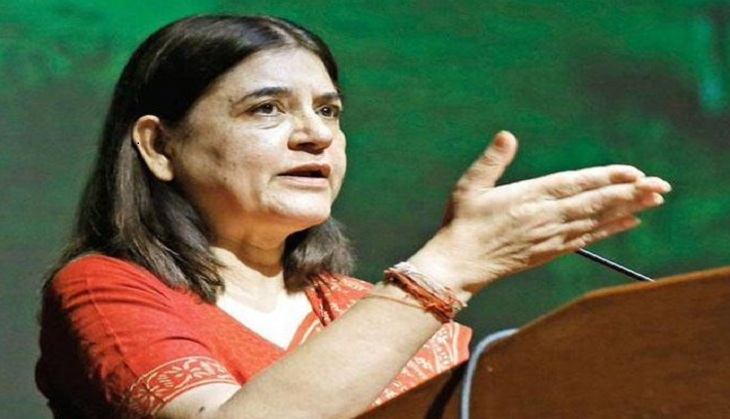 They say the times are changing. But are they really?
Women and Child Development Minister Maneka Gandhi recently sparked a row when she said that paternity leaves would be wasted on men.
"Paternity leave can be considered only if, once the woman goes back to work after her 26 weeks of leave, we find that men are availing their sick leave for a month to take care of the child. Let me see how many men do that. I will be happy to give it but for a man, it will be just a holiday, he won't do anything," she told the Indian Express.
Gandhi's statement reflects a particular mentality that is as commonly accepted as it is flawed. More and more families in India are veering towards the dual-income-parent category. Despite popular perception, there are a startling number of fathers who understand that raising a child - or children - is a team effort.
With both parents working as a team to provide both financial and domestic support to their children, most fathers don't think twice before changing a diaper or staying up to care for their crying child.
A statement from a minister of Gandhi's stature also comes as a blow to the countless women of the country who have, time and again, proved their mettle in every field of life. While she may not have been backing or justifying the 'woman sole in-charge of baby' policy, her statement may end up indirectly encouraging the practise.
Has Gandhi forgotten about the many men in the country who are devoted to their children? Has she forgotten about the fathers who struggle to balance their work and domestic lives after the birth of their child? What about single fathers? Don't they deserve paternity leaves?
Gandhi's statement may be applicable to a select few. But would it not be more appropriate to highlight the requirements of the fathers who actually need these leaves, than to generalise and chastise them by clubbing them with the few who will, as Gandhi puts it, "enjoy their paternity leaves as holidays"?
The Union Minister's apparent ignorance about the issue of paternity leaves is insulting to the couples who are struggling to break the walls of societal pressure and gender stereotypes. These parents are the pillars of a society that is working hard to do away with the so-called traditional gender roles in the Indian household. Not only do these parents deserve our utmost respect, but they also deserve due recognition and support from the Indian government.
Recently, a noted journalist asked star tennis player Sania Mirza if she was ready to 'settle down'. A visibly-startled Mirza put the scribe in his place when she asked him why he thought she wasn't 'settled' already.
There is an urgent need to understand and shatter the misconceptions surrounding the roles that parents play in the life of a child.
After all, nature only restricts the act of the birth of a child to women. The rules of caring for the child are but man-made.
What India and the world at large needs is an atmosphere where women and men are put on equal footing when it comes to caring for a family and carrying out domestic chores. A society where a father who shares the domestic burden is not mocked. A society that knows better than to impose their judgement on parents who juggle their personal and work lives in a ratio best suited to their needs.
A society where women as successful as Sania Mirza do not have to respond to embarrassing questions about 'settling down', instead of being celebrated for their achievements.
As for Gandhi, one can only hope that she understands that paternity leaves are not a matter of choice but a matter of human rights for fathers across the board.