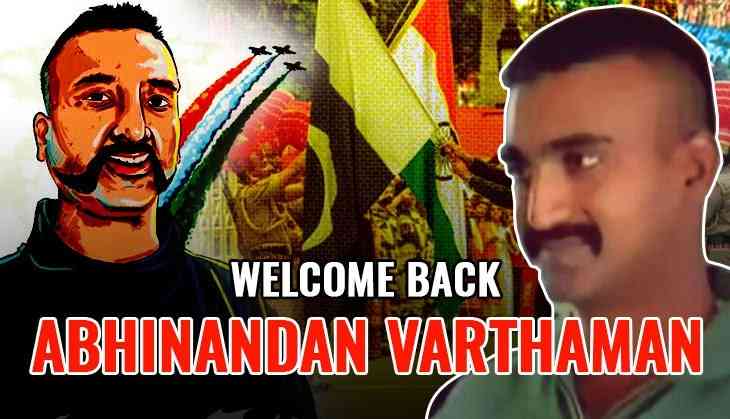 Indian Air Force (IAF) pilot and wing commander Abhinandan Varthaman has finally back to his country, India today after a long time, days after he was captured across the Line of Control (LoC) on 27th February.
He has come back to India through the Attari-Wagah joint check-post today at around 9:30 pm on 1st March and has reached to Delhi's Palam airbase via plane.
However, Wing Commander released from Pakistan after around 56 hours since he was captured by Pak army.
Earlier on Thursday, Pakistan Prime Minister Imran Khan announced that IAF pilot will be released as a 'gesture of peace' amid escalating tensions between the two countries. The announcement has been made by Pak PM days after he captured across the Line of Control after chasing the F-16 jet of Pakistani Air Force.
As soon as the news arrived in the country that Wing Commander will be free from Pakistan's captivity then, people jubilate with a Tricolour on the streets and celebrated with full enthusiasm.
Since Friday morning, people have gathered at Attari-Wagah border to welcome their hero, who has not let down India even in the land of the enemy.
However, IAF pilot will now be flown to New Delhi from the Amritsar airport.
Not only common people but our Bollywood celebs and other Indian popular figures took to Twitter and welcome the real hero of India.
Also, the several hastagat have become popular on the micro-blogging site like #WelcomeHomeAbhinandan, #WelcomeHomeHero, #Abhinandanretuning and many other.
After Abhinandan's successfully come back to India, Prime Minister Narendra Modi took no time to express his feeling on Twitter. PM Modi welcomes the Wing Commander Abhinandan and said, 'nation proud of your exemplary courage'.
Check out his tweets along with other personalities and Twitterati:
Welcome Home Wing Commander Abhinandan!

The nation is proud of your exemplary courage.

Our armed forces are an inspiration for 130 crore Indians.

Vande Mataram!

— Narendra Modi (@narendramodi) March 1, 2019
India is proud of you Wing Commander Abhinandan!
The nation salute the way you defended the sovereignty of the country by displaying indomitable courage and bravery. Uttar Pradesh, along with entire nation is proud of your exemplary courage.

Jai Hind Jai Hind Ki Sena!

— Yogi Adityanath (@myogiadityanath) March 1, 2019
India's happiness on return of Wing Commander Abhinandan is unprecedented. I salute the courage and resilience of Wg Commander Abhinandan.

— Arun Jaitley (@arunjaitley) March 1, 2019
Only the courageous join armed forces. And thereafter become braver still. #AbhinanadanVarthaman proved it.

— Kiran Bedi (@thekiranbedi) March 1, 2019
India doesn't need weapons to fight a war...
Warriors like Abhinandan are enough!
We cannot thank our brave soldiers enough for their endless efforts and sacrifices for our Motherland.

Let us welcome back our brother: Wing Commander Abhinandan Varthaman#WelcomeHomeAbhinandan pic.twitter.com/o4AN0wJJWr

— Kirron Kher (@KirronKherBJP) March 1, 2019
A hearty welcome to the Nation's pride and the Hero of our Country ❤️!We salute you sir! We are blessed to have you protect us. Jai Hind! 🇮🇳#WelcomeHomeHero #WelcomeHomeAbhinandan #TheRealHero pic.twitter.com/K0z0WLiWx4

— Vijay Varsan🤾🏻‍♂️ (@vijayvarsan) March 1, 2019
#WelcomeHomeAbhinandan
Welcome home ,Abhinandan.
KVians,Air force,defence force and india is proud of you.
Thanks for serving the country.
Thanks to your family.

— Maneesh Vyas (@saimarketing10) March 1, 2019
|🇮🇳 Hindustan Ka hero |🇮🇳#WelcomeHomeAbhinandan#Abhinanadan

— Ashok samriya (@ashoksamriya013) March 1, 2019
''యోధుడు'' కి స్వాగతం.......
Welcome back to mother land .
The Hero is back 😎#WelcomeHomeAbhinandan https://t.co/DTkQM78laO

— 🤘🏻 (@PKPF_Official) March 1, 2019
Also read: Grand salute to Wing Commander Abhinandan Varthaman! IAF pilot did this brave thing after realising that he was in PoK