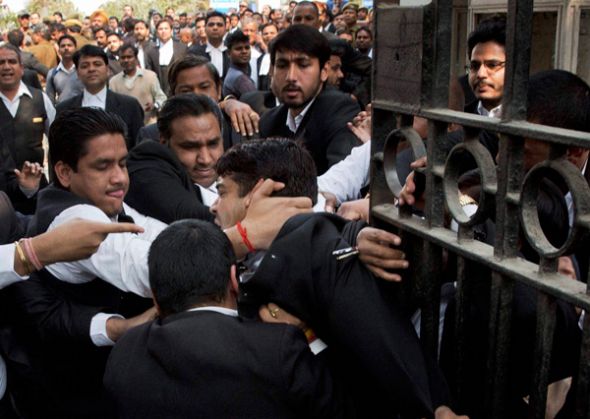 As the Delhi Police sent notices to nine media houses asking for raw footage and photographs of the assaults by lawyers on students, teachers and the media at Patiala House Courts last week, lawyers who were caught on camera beating up journalists and students said they would file a criminal defamation case against three media houses for calling them "goons", reports The Indian Express.
Advocate Yashpal Singh, who has been identified by Delhi Police personnel as one of the lawyers involved in the assault, said they would take legal action against the three channels.
Singh has yet to be questioned by the police, but says he will join the investigation by Tuesday evening. "I am not afraid of anything. I will abide by the law. I have not committed any crime. This media trial against lawyers has to stop."
At an event organised by the Shahdara Bar Association, Singh said, "We have been called goons. However, not a single person has gone to police and given any evidence or identified us. In fact, it was JNU students who provoked the lawyers demonstrating against anti-national elements."
The lawyers accused by the media have no political affiliations, said Singh, and they would continue to protest against anti-national forces. "We are ready to go to jail," he said.
Advocate Mahesh Sharma, president of Shahdara Bar Association, said that lawyers are well educated and informed citizens, and that calling them "goons and criminals is defamatory".