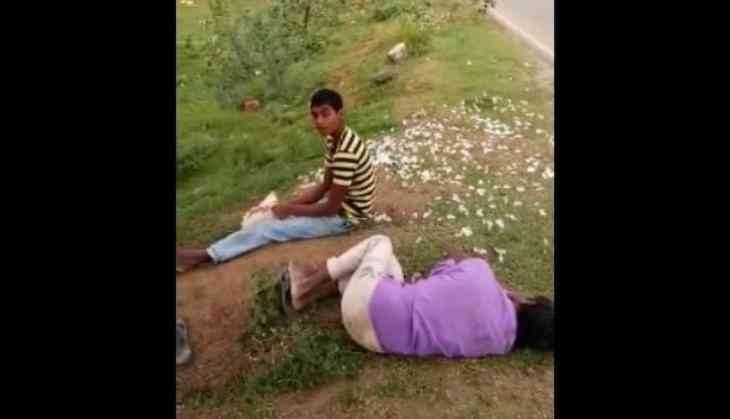 In a bizarre act, a drunk youth was caught on camera eating alive chicken's flesh in Telangana. A video that has been widely circulated shows a drunken man sitting on a ground tearing the alive chicken's carcass and eating its flesh. The was shot by a passerby and had gone viral in no time.
As per the IndiaToday's reports, the incident took place on Tuesday in Telangana's Mahabubabad district, where two youths from Kesamudram area were partying. They purchased the chicken for its making curry and alcohol to drink.
Watch Video:
However, they drunk too much that, one of the guys can be seen lying on the ground. Under the influence of alcohol, they both started walking towards their home but passed out midway near a road.
Meanwhile, after some time, one of the youth woke up and felt hungry, after finding chicken, he started ripping off the feathers and flesh from the chicken and eating it.
In the video, the youth could be seen tearing apart living chicken's carcass and eating its flesh. Since the video surfaced, local police have formed teams to identify and nab the accused youth for animal cruelty and indecent behaviour in public.
Also read: Gurugram: Muslim man dragged to barber shop and forced to shave his beard in Mewat; barber thrashed on opposing