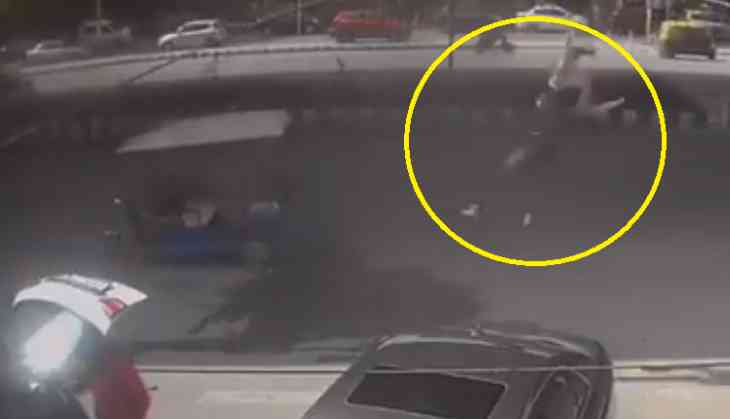 In a miraculous escape, a woman riding a bike was thrown off the Vikaspuri flyover in Delhi after being hit by a speeding vehicle. According to the initial reports, despite the horrific 50-feet fall, the woman survived with severe injuries.
According to reports, the woman, who was riding pillion, was caught on camera flying on the road below the flyover after being hit by an unidentified speeding vehicle. As per the report by Hindustan Times, the victim has been identified as Sapna and is currently undergoing a treatment in Deen Dayal Upadhyay (DDU) hospital.
However, the two friends of Sapna, who were riding with her on a motorcycle at the time of the accident, were not thrown off the flyover but sustained severe injuries. The police said that all three victims work in a salon in west Delhi's Meera Bagh.
The tragic road accident took place while they were on their way back home. Police further informed that none of the three girls were wearing helmets.
Also read: Here's how wife of martyr CRPF jawan says 'i love you' and blows a kiss for the last time; watch her