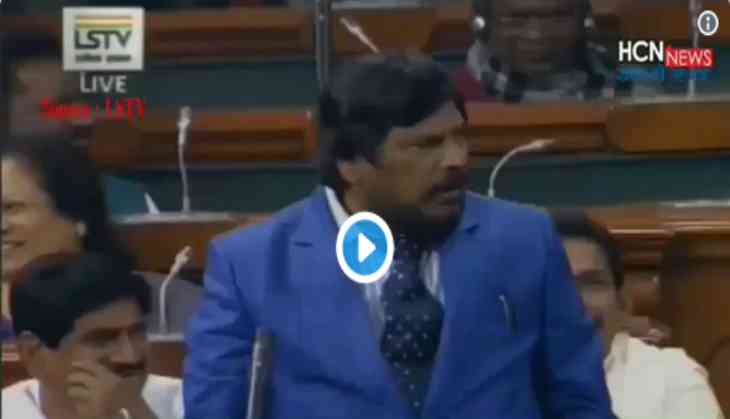 As the Bhartiya Janata Party government has approved 10 per cent reservation for economically weaker Upper caste people in Government Jobs and Education sector, several heated arguments and counter-arguments came across. The quota bill was passed in Lok Sabha on Tuesday. Ramdas Athawale found a creative way to show his support for both the bill and the BJP government.
The Minister of State for Social Justice and Empowerment tried his hand at stand-up comedy in the Parliament and recited his poem on the quota Bill in the Lok Sabha, which included digs at Rahul Gandhi and the Congress. The poem also had a declaration that the Narendra Modi administration would return to power in 2019.
Watch Video:
While politicians always provide us with entertainment, 2019 seems to have kicked off on a high!👏
Here's @RamdasAthawale, MoS Social Justice & Empowerment, trying his hand at stand-up comedy in Parliament (again)
Please laugh; you've already paid for the tickets - as your tax. pic.twitter.com/3A0mAlD7He

— Akash Banerjee (@akashbanerjee) January 8, 2019
However, Athawale has been known for his mini-poetry session in Parliament. The president of the Republican Party of India is known for his delivering speeches in a sing-song manner and his penchant for rhymes.
Also reach: Budget 2019: Budget Session of Parliament to be held January 31 to February 13; interim budget to be presented on Feb 1