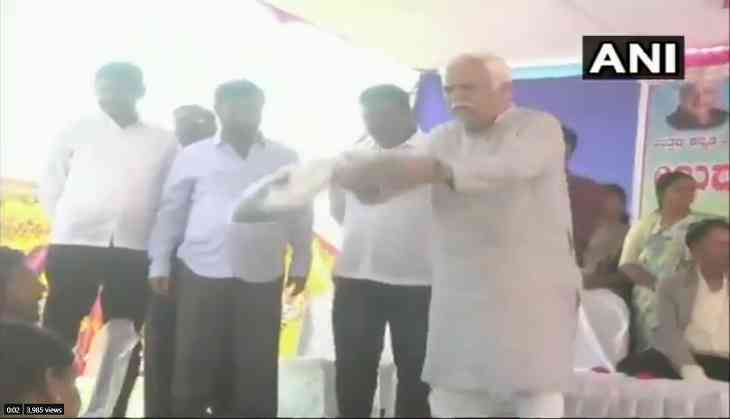 A video is going viral on the social media where Karnataka's Revenue Minister Ravi Deshpande is seen throwing sport kits on national level players. The players were from district, state and national level and the incident occurred during an honor ceremony of the sports athletes in Karwar, Haryana.
Deshpande was visiting his own constituency to inaugurate an indoor stadium in Haryana, which was built by Public Works Department and he seemed to be in a hurry to go somewhere else and hence, had thrown the sport kits on the players, insulting the national athletes.
As the video of the minister went viral, it garnered adverse comments from the public. But the minister RV Deshpande replied to the controversy, saying "They are all our boys and know me very well. Some people are trying to make a mountain out of a molehill."
#WATCH Karnataka Revenue Minister RV Deshpande throws sports kits from a stage at national, state and district level athletes, in Karwar's Haliyala. (31.10.18) pic.twitter.com/m82LYSh9wL

— ANI (@ANI) November 1, 2018
The Karnataka By-polls of the Lok Sabha seat is scheduled for 3rd November and the alliance of Janta Dal Secular and Congress party has always been in a tandem, as now, DK Shivkumar has again courted controversy by the alignment of power and distribution of tickets.
Also read: Lok Sabha Election: PM Narendra Modi's brother Prahalad Modi to support Mamata Banerjee's TMC in