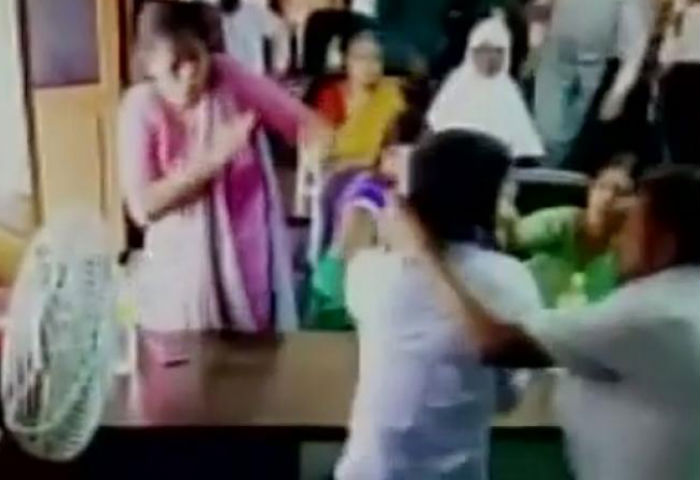 A Janata Dal Secular (JDS) Municipal councillor finds himself in trouble after a video footage purportedly showing him assault a woman, an Independent councilor, went viral.
The incident took place on 11 March when elections were being held for the Vice President and President posts of the Koppala city municipality, Koppal Superintendent of Police K Thiayagarjan said.
"JDS member Channabasappa Kothihal, in a fit of anger, slapped the Independent woman member Vijaya Hiremath for not raising her hand in support of the Bharatiya Janata Party (BJP) candidate," he said.
A day before, on 10 March, the woman councillor who had decided to vote for the BJP candidate, changed her stance later, which angered Kothihal and in a fit anger, he slapped her in full view of the public, Thiayagarajan said.
The BJP dubbed the incident as extremely unfortunate, saying that this incident sends out a wrong message about the political milieu.
"What has happened is very unfortunate. I think, cutting across party lines, we should all condemn this incident and we should term it as a heinous incident. Incidents such as these send out a very wrong message about the political milieu.... The people say that the particular woman representative had received money and promised to vote," BJP leader Suresh Kumar said.
He further insisted that the JDS look into the matter seriously.
"The police, the law and order machinery should also deal with it seriously. Every political party should condemn this incident and resolve not to allow such incidents in the future," he added.
The video footage of the incident has gone viral on social media prompting many prominent JDS leaders to condemn the attack:
WATCH: A JDS worker slaps a woman party worker during JD(S) meet in Koppal (Karnataka) (Mar 11) (Source: unverified)https://t.co/QVE3nB5TyP

- ANI (@ANI_news) March 12, 2016