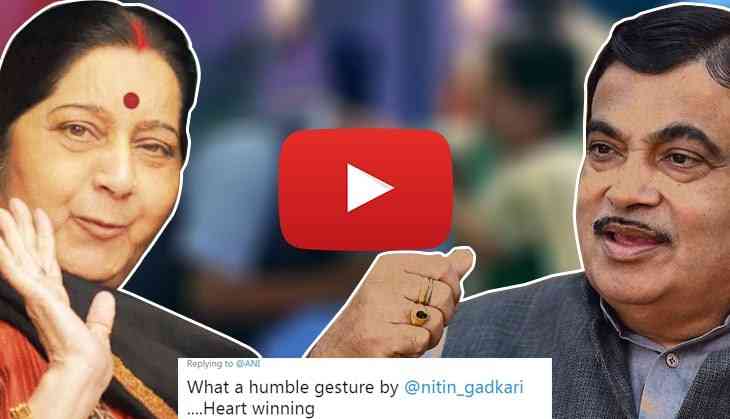 A video of Bhartiya Janata Party (BJP) two great leaders, External Affairs Minister Sushma Swaraj and Transport Minister Nitin Gadkari, is doing the round on social media.
In the viral video, Swaraj and Gadkari can be seen sharing a special bonding with each other. The duo was spotted from BJP's election meeting that was held on Monday.
Even Nitin Gadkari tweeted the video on his official Twitter handle.
He wrote, 'Thank you @sushmaswaraj ji for your blessings and warm wishes.'
Thank you @sushmaswaraj ji for your blessings and warm wishes. pic.twitter.com/wwQblvmjq8

— Chowkidar Nitin Gadkari (@nitin_gadkari) March 25, 2019
Being a senior leader to Gadkari, she has showered her blessings to the leader.
However, Sushma Swaraj is six years senior to the Transport minister.
This special bonding was captured when Swaraj was standing outside the meeting venue and Nitin Gadkari just arrived there. Soon after, he moved towards Swaraj and bows down in respect. In reply to his respect, the External Affairs Minister shower her blessings and place her hand on Gadkari's head to show her affection like a senior or like a mother.
She was also spotted tapping the back of Nitin Gadkari.
Check out the heartwarming video:
#WATCH Delhi: Visuals of External Affairs Minister Sushma Swaraj and Union Minister Nitin Gadkari from outside the BJP headquarters. The leaders had arrived for the party's CEC meeting. pic.twitter.com/7NMXtsH0af

— ANI (@ANI) March 25, 2019
However, their gesture for each other has won the hearts of netizens.
Check out how Twitterati reacted:
She is so down to earth and caring

— Chowkidar Jitendra Varma (@_JitendraVarma) March 25, 2019
This is my Party for you. 😍 pic.twitter.com/tjb2OLe9xL

— . (@NV_Handle) March 25, 2019
Arre yeh kitni pyaari hai. 😍😍

— Chowkidar Peter (@i_griffinpeter) March 25, 2019
Such love such affection 🙂🙂

— CHOWKIDAR ASHWIN (@AshwinReddy91) March 25, 2019
@SushmaSwaraj Ma'am, आपका ये आशीर्वाद @nitin_gadkari Sir, को विश्व रिकॉर्ड बनाने में अवश्य ही कारगर होगा 🙏🙏@BJP4India

— अƴʋsʜ™😎🚩 (@RoyalIndian_) March 25, 2019
What a gesture

Nitin ji looks like an obedient child of Sushma Mam

This Sanskar is prevelant only in BJP

You will never see Rahul Gandhi taking Ashirwad from Sonia.

— Chowkidar Rishi Mishra (@RishiMishra_) March 25, 2019
Meanwhile, political parties are busy making efforts to woo the voters ahead of general elections 2019.
Nitin Gadkari will be contesting from Nagpur in Lok Sabha election. The polls in Nagpur are scheduled to take place on April 11.
Also read: PM Modi, Amit Shah, union ministers in BJP's list of campaigners for Telangana