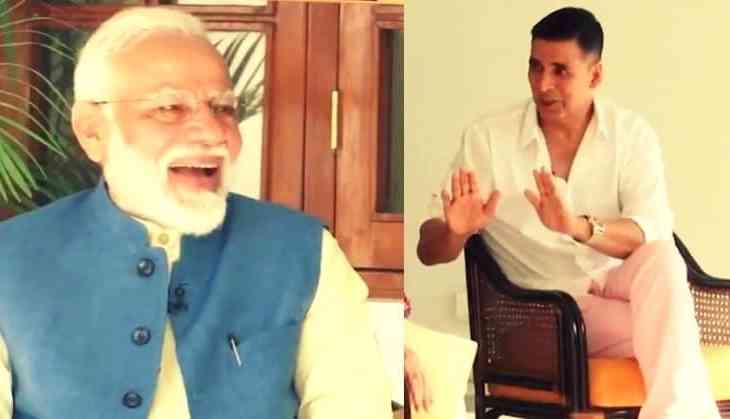 Bollywood actor Akshay Kumar has to turn into an interviewer for the Prime Minister of India Narendra Modi, a day after he teased his fans followers of getting into an 'unknown and uncharted territory' with something never done before. Akshay Kumar gets to engage in completely 'non-political' candid chay with PM Narendra Modi on Wednesday.
In an interacting with Akshay Kumar, PM Narendra Modi also opened up if ever thought that one day he will become the Prime Minister. "I never thought I would become the prime minister. If I would have got a good job, then also my mom would have been happy. She would have distributed sweets," said Prime Minister Narendra Modi.
#WATCH PM Narendra Modi during interaction with Akshay Kumar, speaks on if he ever thought that one day he will become the Prime Minister pic.twitter.com/aXhJE3ImwF

— ANI (@ANI) April 24, 2019
PM Modi also revealed what former US President Barack Obama has had adviced him when the duo leader met in 2015. "You sleep only three-four hours, a body needs at least seven, right," asks Akshay Kumar. In response, PM Modi shared this anecdote: "When President Obama met me for the first time he asked me why do you do this? Now, whenever we meet he asks me have you increased the amount you slept or now?"
He asked me, why do you do this (sleep for only a few hours)," PM Modi revealed. "Whenever we met after that one, he would always ask if I listened to him and increased the number of hours I sleep," PM Modi said. It is also said that this was PM Narendra Modi's first 'non-journalist' interview with Kesari actor Akshay Kumar.
On Monday, Akshay Kumar's cryptic tweet "Getting into an unknown and uncharted territory, had fueled speculation that he was contesting the elections. "Excited and nervous both. Stay tuned for updates," he posted, causing a frenzy on Twitter until he clarified that he was not contesting.
On Tuesday night Akshay ended the speculation by his another tweet on turning interviewer for PM Modi. Akshay Kumar tweeted, "While the whole country is talking elections and politics, here's a breather. Privileged to have done this candid and completely non-political freewheeling conversation with our PM Narendra Modi. Watch it at 9AM tomorrow."
Also read: LS Polls: Didn't complain of EVM malfunction fearing punishment: Ex-Assam top cop