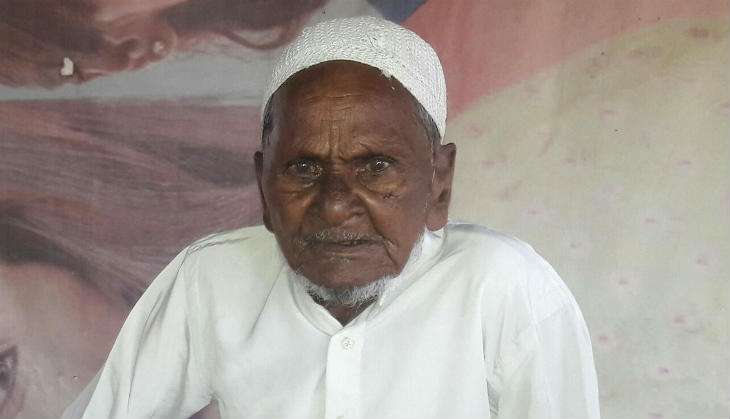 The battle for Babri Masjid - first a communal flare up and then a long, drawn-out legal case - kept 95-year-old Hashim Ansari, the oldest litigant in the case, occupied for the most part of his life.
It is important to remember Ansari, who breathed his last on 20 July, as he was one of the rare voices that lent some sanity to the political fiasco that the dispute has now become.
A liberal voice, Ansari was against political parties using the Babri Masjid issue for their benefit.
While his first brush with political turmoil was when he was arrested during the Emergency, his association with the Babri case dates back to the period right after Independence.
According to The Hindu, Ansari was arrested in 1949 for breaching peace following the incident of 22-23 December 1949 - when an idol of Ram Lalla was placed inside the Babri Masjid in Ayodhya.
But as time passed, Ansari grew increasingly concerned about the ones responsible for the demolition of Babri Masjid on 6 December 1992. He was totally against giving the dispute a political tinge and called for an amicable resolution to the dispute. He was also open to the idea of a temple at the spot.
"I don't oppose a temple either. I want an end of the case so that the hard-line Muslim and Hindu leaders are prevented from inciting communal tension in the name of Ayodhya," an India Today report quoted him as saying.
In September 2010, the Lucknow bench of the Allahabad High Court pronounced its judgment in the Ayodhya title suit. The bench called for a three-part division of the disputed place - one-third for the Sunni Waqf Board, one-third for the Nirmohi Akhara and one-third to a Hindu group.
After the ruling, Ansari tried to reach out to all parties to reach a compromise. However, he failed to bag the support of other Muslim litigants like the Sunni Central Waqf Board. He then went on to file an appeal in Supreme Court.
He also led delegations to meet the VHP to negotiate a possible solution to the 65-year-old dispute. Ansari also made headlines in 2014 when he said he wanted to "set Ram Lalla Free".
He wanted to meet Prime Minister Narendra Modi in order to find a solution to the dispute. "I am ready to come to the negotiation table with prime minister Narendra Modi, but before we start talking on this issue I want Modi to put the trial of Babri Masjid demolition accused on fast track," dna quoted him as saying.
His son Iqbal has now promised to take his fight forward.