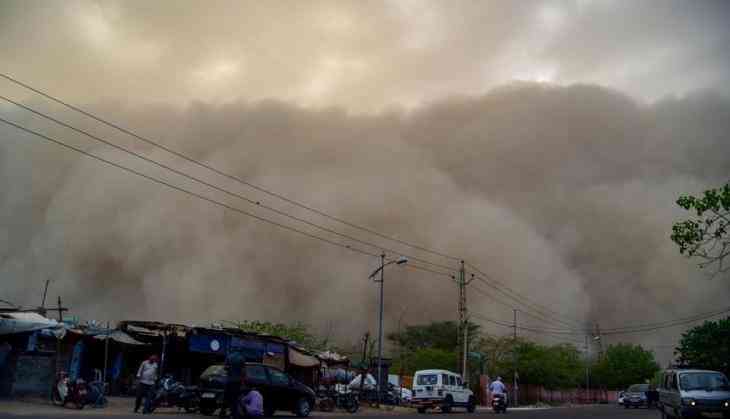 The India Meteorological Department (IMD) has predicted that there is a possibility of thunderstorm accompanied with a squall and gusty wind will hit states across the country on Sunday. The weather office has said thundershowers accompanied with squall, with wind speed reaching 50-­70 kmph, are "very likely" at isolated places over Jammu & Kashmir, Himachal Pradesh and Uttarakhand, Uttar Pradesh, Gangetic West Bengal, Jharkhand, Bihar and Odisha.
Dust storms can also hit many parts of Rajasthan in the next two days. Hurricane coming in hill states can also have an impact in the plains of northern India and this hurricane and typhoon are coming due to the new western disturbances beginning tomorrow.
Thunderstorm over the hill states and its subsequent effect on the plains in north India is due to a new western disturbance from Sunday, according to the IMD. According to the IMD advisory, heavy rain is "very likely" at isolated places in Karnataka, Lakshadweep and Kerala.
States that can witness thunderstorm accompanied with gusty winds:
Punjab, Haryana, Chandigarh & Delhi, Assam & Meghalaya, Nagaland, Manipur, Mizoram & Tripura, Vidarbha, Chhattisgarh, south Madhya Maharashtra, South Interior Karnataka, Lakshadweep, Kerala and Tamilnadu and Puducherry.
Also read: Video: Shocking! Man openly masturbates at 2 young girls in Kolkata bus; held after woman shared the video on Facebook
Duststorm followed by light rain was reported on Saturday in Chandigarh and its surrounding areas and some parts of Haryana and Punjab. Meanwhile, one person died and two others were injured when lightning struck Jammu and Kashmir's Anantnag district on Saturday, reports.
There is a possibility of a gusty storm in western Madhya Pradesh, Vidarbha and Rajasthan. In the first week of May, more than 120 people died due to storms and storms in many states of northern India.
Also read: High Alert! Thunderstorm and rains likely to hit the North Indian plains on Sunday