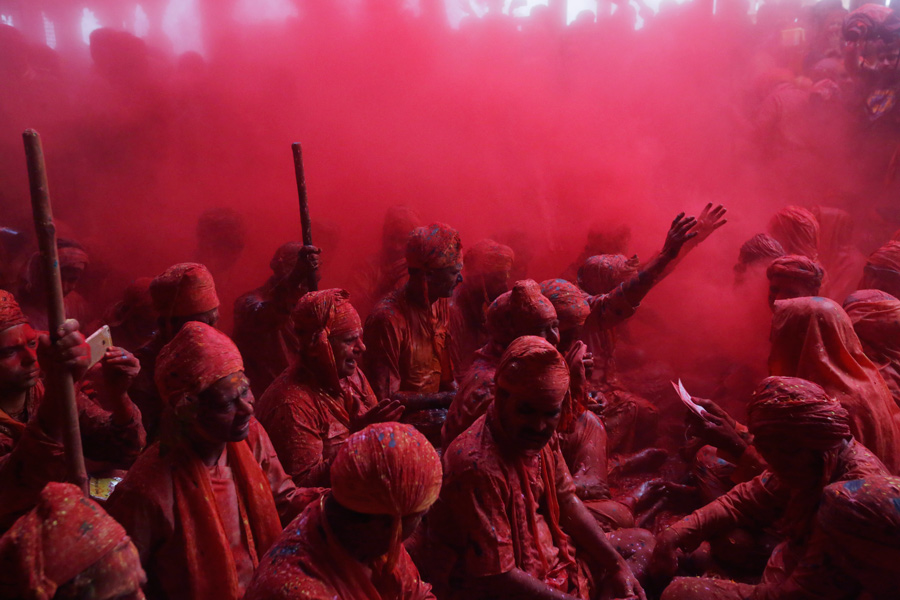 Spring is here and so is Holi - one of the happiest festivals in India. But if you thought that the Holi was only about Gulaal, pichkaris and Thandai, then think again.
States and communities across India follow different Holi practices and usher in the spring in their unique ways. While some smear their friends and family in colours, others prepare mud baths. Some even have the tradition of beating men with whips made from old clothes. Did you know some communities don't even call Holi, Holi? Take a look:
Holi in Mathura and Vrindavan, Uttar Pradesh
Holi is an flamboyant affair in the birth place of Lord Krishna, Mathura. The celebrations start 40 days before the actual day of Holi. If you are in Mathura and Vrindavan on Holi it is highly unlikely that you can walk the street without any colour on your person. Not only does the Bhaang flow freely on Holi day, but people also throng the temples to get drenched in the colored water - an auspicious ritual.
Mumbai, Maharashtra
Mumbaikars take their Holi seriously. Drenched in ecstasy and gulaal ka paani, the people go crazy smearing colours and throwing water balloons on passersby. However, the highlight of Holi is the Dahi Handi in Mumbai. The tradition, which invokes Krishna, involves hanging a pot of buttermilk at a height. Men then form a human pyramid to try and break the pot. The one who succeeds is declared as the Holi King of that particular neighborhood.
Punjab
The Holla Mohalla, celebrated a day after Holi, sees streets in Punjab packed with crowds as they watch men perform stunts on speeding horses, engaging in wrestling matches and martial arts events and dare devil acts like sword-fighting. Kirtan and religious lectures are also arranged in durbars in the presence of the Sri Guru Granth Sahib.
Delhi
Delhi stays true to its cosmopolitan nature on Holi. A number of traditions culminate to make the Holi in the capital what it is. From exorbitant Holi parties with popular Dj's, rain dance and pool side parties across the city to the crowds playing Holi with eggs, colour and mud - Delhi has it all. And come Holi time, and no passerby is safe from being hit by water balloons by children. You've been warned.
Haryana
Holi is recognised as Dhulandi in Haryana. Here, the sisters-in law roll up their saris in the form of a rope and hit their brothers-in-laws in mock rage. The celebration draws to a close with the sisters getting sweets.
Kolkata
The city of joy has a unique way of celebrating Holi. Popularly called Dol yatra, the festival is celebrated with idols of Krishna and Radha placed on swings and devotees taking turns to swing them. Women dance around the swing and sing devotional songs, as men spray colored water and powder called "Abeer". It is an absolute color riot in Kolkata.
Manipur
Holi is celebrated with gusto for over six days in Manipur. A thatched hut of mud and clay is burnt in the evening to mark new beginnings. The best part is that the boys have to pay the girls to play Holi with them. That's right ladies, time to head to Manipur.
Barsana, Uttar Pradesh
Legend has it that Barsana is the birth place of Radha. Come Holi, and men from Nandgaon, the land of Krishna, visit Barsana with the intention of playing Holi with the women in the village. The men will also attempt to raise their flag over Shri Radhikaji temple. But, instead of colours, the men are greeted with sticks by the women. The Lathmar Holi celebration culminates in the men drenching the women in colours of kesudo, when they try to invade Nandgaon. Sounds super fun.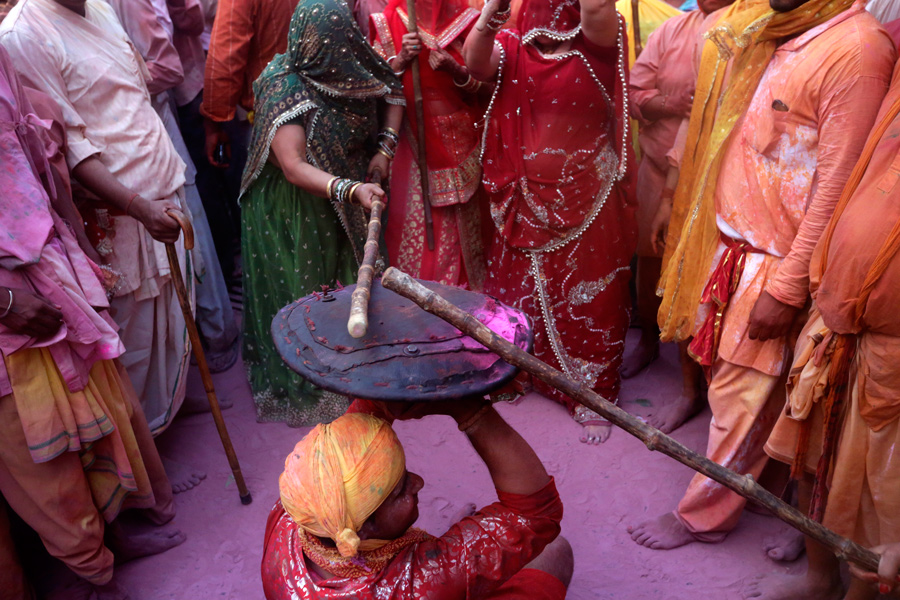 Jaipur, Rajasthan
Jaipur likes to keep it royal even on a wild and crazy festival as Holi. Unlike the other states, Jaipur holds a grand Elephant Festival on Holi. The elephants are groomed and dressed with dazzling and embroidered velvets rugs and parasols and other grand ornaments like huge elephant jewellery and anklets decked with bells. The celebrations include elephant polo, an elephant race and a tug-of-war between an elephant and 19 men and women. Grand indeed!
Karnataka
While the IT-hub of Bangalore sees Holi celebrations similar to that of Delhi's - think Thandai shots and vodka pani puris - Hampi has a different take on the festival. Entire neighbourhoods come out on the street to play Holi to the sounds of loud drums. The crowd later moves to the river to wash off the color.
Inspired yet? Happy Holi!