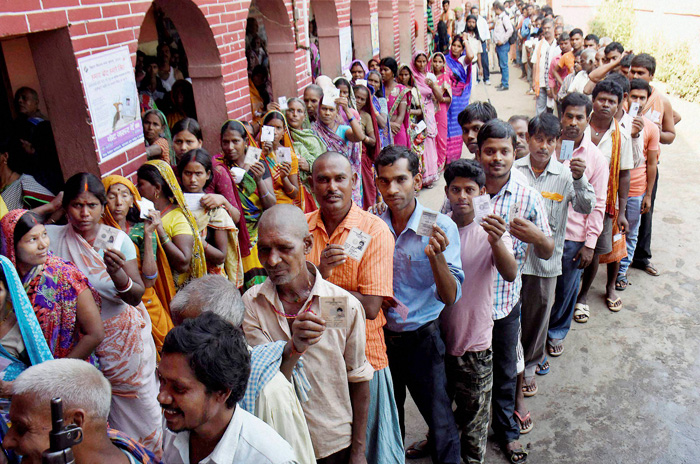 The second phase of voting in the Bihar elections witnessed an estimated 55 per cent turnout in 32 constituencies across six Maoist-affected districts of Bihar. The voting was peaceful even in the Maoist-affected areas which ended two hours earlier.
Like the first phase on October 12, today's polling also saw more women voters turning out than the menfolk.
Today's polling figure is three per cent higher than the 2010 assembly election in the state, Chief Electoral Officer Ajay V Nayak told reporters.
While the women voters' turnout was 57.5 per cent, it was 52.5 for men, Nayak, who was accompanied by Additional Chief Electoral Officer R Lakshmanan, said.
The two officials said polling was more or less peaceful and there was no major untoward incident reported from anywhere. Only in Maoist-hit Gaya district, two IEDs were recovered by security personnel and defused.
Senior BJP leader and former minister Prem Kumar (Gaya town), former state BJP chief Gopal Narayan Singh (Nabinagar) and state minister Jay Kumar Singh (Dinara) are among those whose fate would be decided in this phase.
Nayak said the two bombs weighed 12 kg and 10 kg and both were defused successfully under Maigra police station of Imamganj constituency of Gaya district by CRPF personnel.
While Kaimur recorded a maximum of 57.86 per cent voting, Aurangabad saw the lowest turnout of 52.5 per cent.
A total of 456 candidates, 32 out of whom being women, are in the fray in this phase. Polling took place in 9,119 polling stations where security cover was provided by 993 companies (one company comprising of 100 personnel) of central paramilitary forces and the state police.
-PTI