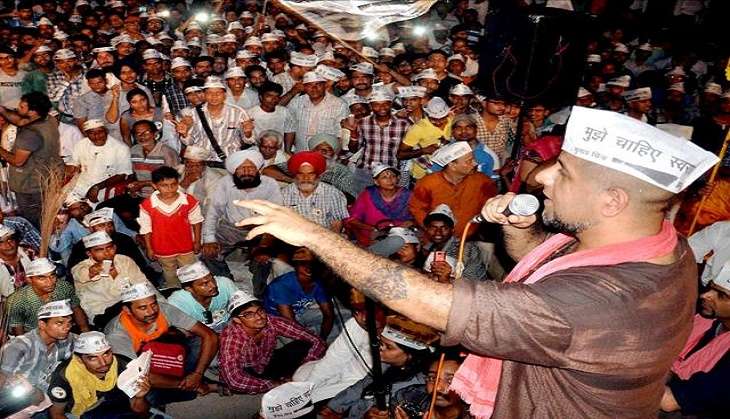 Disappointed and "hurt" for his sarcastic tweet on Jain monk Tarun Sagar's address to the Haryana Assembly, music composer Vishal Dadlani, has once again tendered an apology for hurting Jains' sentiments and has sought forgiveness.
Dadlani, who quit the Aam Aadmi Party after his tweet which was strongly disapproved of by Delhi Chief Minister Arvind Kejriwal, said he will only work for social causes for the upliftment and betterment of the poor and underprivileged.
Also read: Under fire over sarcastic tweet on Jain monk, Vishal Dadlani apologises and quits politics
"As a concerned Indian, I should have been especially careful to be sensitive to the sentiments of followers of Muni Tarun Sagar ji. Especially after receiving his forgiveness, I realise what a magnanimous and generous heart he has, and what strength lies within the gentleness of the Jain people," Dadlani said in an open letter to Muni Tarun Sagar and the Jain community.
On 29 August, a complaint was lodged with local police against Dadlani for allegedly hurting religious Jains' sentiments through his tweets on Muni Tarun Sagar.
The Haryana Police has also booked Dadlani for his tweets against the monk. "I have always stood up for the rights of every Indian, and I feel like I have failed my love for my country this time.
"Because it is the gentle and kind Muni Tarun Sagar ji who could have been affected, I know I have no reason to be afraid, but I do have strong reason to be hurt and disappointed with myself," Dadlani added.
Also read: Jain monk Tarun Sagar 'forgives' Vishal Dadlani for his irreverent tweet
He said it was his ego that led him to speaking against the Jain guru. "It is that same ego that I hope to defeat, with your help. I apologise again, from the depths of my heart, and ask that Muni-ji and all my Jain brothers and sisters, forgive me," Dadlani said.
-PTI