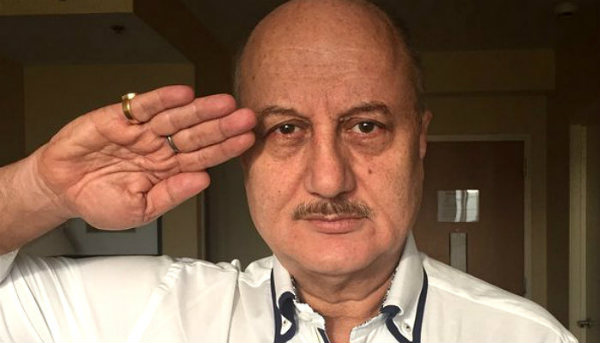 Pakistan rejects actor (and recent Padma Bhushan) Anupam Kher's visa. But Islamabad's High Commission in Delhi claims Kher never applied for one. Kher, then, organises a press conference and shows documents which he wanted to submit as part of the visa application process.
At this point, Karachi Literature Festival (KLF) founder Ameena Saiyid accepts that Kher's name was rejected when the invitee list was sent to Pakistan government for clearance.
And while all of this unfolds, Times Now calls for an Indian boycott of KLF. Does an earlier rejection of visa for a Times Now journalist have anything to do with the current campaign? Can't say. But we can look into Kher's Pakistan visa dilemma.
So, who is lying and who has come clean?
Actually, neither party.
As someone who has been rejected twice while trying for a Pakistani visa, I can give you a run through the proceedings.
1) You are invited to a seminar by a Pakistani organisation. If you accept the invite, the organisers are supposed to send a list of the invitees to their government. Yes, Pakistani government decides who comes in and goes out of the country, especially from India.
2) Pakistan home office vets your name, and does due background checks. If you are a journalist or an activist, with a slightly critical view of Pakistan, chances of you getting a clearance are minimal.
3) Once the government clears your application, you can finally make a formal application for visa.
So, Pakistan High Commission isn't lying when they say Anupam Kher never applied for a visa. On the other hand, Kher isn't lying either as the organisers told him not to apply for the visa as there was no clearance from the Pakistani government.
But the larger question is, why would Pakistan government reject such a request from one of India's best known artistes? Especially when Pakistan and India are trying to mend their ties.
Moreover, Kher's session at KLF "From Life to Reel", of which actor Nandita Das is also a part, has no overt political undertones to it. Kher claims his pro-Modi image and his views on the Kashmir Pandit issue could be a reason for him being 'singled out'. But why would Islamabad resort to such a silly move, given the recent show of bonhomie between Indian PM Narendra Modi and his Pakistani counterpart Nawaz Sharif? There is no convincing answer from either side.
Before we jump the gun though, it would be important to note that India follows the same process when it comes to issuing visas. While we may not have a list of Pakistanis whose visas India has rejected (maybe they aren't as popular or close to their ruling party), it is a well known fact that India has tightened visa regulations for journalists and activists in recent years. Here are a few instances:
1) Let's begin with Pakistan. In 2008, India deported famous Pakistani human rights activist Ansar Burney from Delhi. He was in India to attend an anti-terrorism conference.
2) In 2012, former Pro-Palestinian UK Lawmaker George Gallaway wasn't given a visa to attend a seminar in Goa.
3) In 2012 again, three Japanese anti-nuclear activists were deported from Koodankulam
4) In 2015, Christine Mehta, human rights activist with Amnesty International, was deported while she was working on a report on AFSPA in Jammu and Kashmir
5) Also in 2015, Mary Aileen Diez Bacalso, another human rights activist with Asian Federation Against Involuntary Disappearance, was deported for her work in J&K.
But for now, between Times Now and Kher, India and Pakistan look like they might be headed towards a mini-diplomatic row.