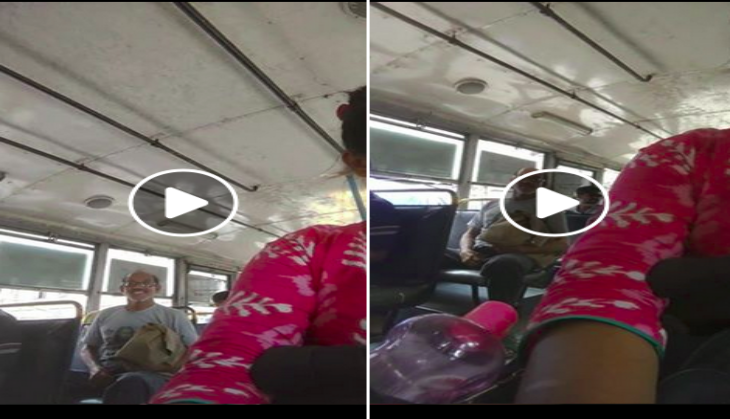 In a shocking incident, a man masturbated at 2 young girls in a moving public bus in Kolkata. One of the two girls filmed his indecent act and posted it on social media after which it went viral. "The accused, a resident of Baidyabati and a hawker, was arrested by the Shyampukur police," said Joint Commissioner of Police (Headquarters) Supratim Sarkar.
As per PTI, the accused is mentally ill. The video was posted on the Facebook page of a woman in her twenties on Saturday. In it, she wrote that she was travelling from Hedua in North Kolkata at around noon earlier in the day when the incident happened.
"My friend and I were returning to our home on the bus when suddenly we saw a middle-aged man behaving indecently with us. But no one objected to it. When we alerted the conductor he said 'What can do I do? How can we know what running in his mind'. Not a single person came to our support," the post in Bengali read.
Watch video here
The Facebook post of the woman reflects that the incident had happened earlier too. But she was scared to share her ordeal. When Kolkata Police was alerted to the video, they posted on Facebook: "A lady has shared a video on our Facebook page which shows ultimate indecency of a man. We have received several messages on the post. We don't see a need for any written complaint in this case. This video is enough for us to take action. We have registered a case on the basis of the video already".
Also read: 26/11 Mumbai Terror Attack: Nawaz Sharif admits Pakistan terrorists responsible for 2008 terror attack; here are the top points
The video has got 31,000 reactions, 23,000 comments and 35,000 shares within hours of being shared on Facebook. The police posted news of the offender's arrest around 8:30 pm on its Facebook page. By 10:30 pm, the post had 36,000 reactions.
"This is the man. He has been caught and will be punished most definitely," the police wrote on its Facebook page alongside a photo of the offender.
Roy, a hawker by trade, is a resident of Baidyabati in Hooghly district. The police described Roy as a man with a diseased mind and signed off on the post saying, "Punishment is certain. Keep the faith."
People came forward and have commented on the Kolkata Police post, thanking them for their prompt action.