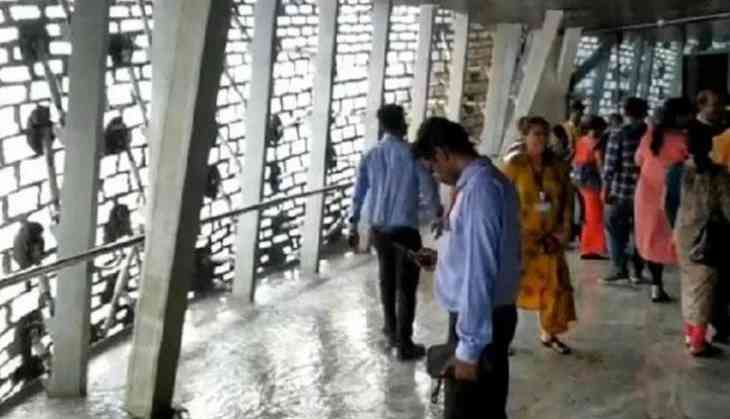 Screenshot from the video
The world's tallest statue inaugurated by Prime Minister Narendra Modi last year is already in the news for bad reasons. The 182 metres tall 'Statue of Unity' dedicated to India's first home minister Sardar Vallabhbhai Patel is situated in Narmada district, Gujarat and is experiencing its first monsoon since it was opened for public on October 31, 2018.
A video is going viral on social media where rainwater can be seen leaking from the cracks in the ceiling. The viewing gallery at 153 metres was flooded due to heavy rain in Gujarat.
What a shame Mr. PM, first they snatched #patel from Congress and then made him a ₹3000 statue. This is only the beginning of their lies. Watch this video to know the exact condition of #StatueOfUnity @PMOIndia @narendramodi @BJP4India @smritiirani @AmitShah @nsitharaman pic.twitter.com/Aqvao1VSHw

— Praveen Kumar P J (@pkpj) June 29, 2019
"The entire purpose of keeping the viewing gallery open is to allow the people to enjoy the scenic beauty of the place in its natural form. There is a glass enclosure at the back and there is no water collected there. However, the front of the gallery at the chest is open as per the design and it is natural that the rain will come into the standing area. There is no leakage in this part as the water dripping from the ceiling is also just a trail of the same rainwater," IK Patel, CEO of Statue of Unity was quoted as saying by The Indian Express.
Patel, however, agreed that the exhibition area at the base of the statue has reported leakage from several parts of the ceiling.
IK Patel said they have asked the construction company L&T to take corrective action immediately and to ensure that there is no leakage anywhere else.
The construction company L&T was handed out the contract to build the statue in 2014 by the Gujarat government. The project took 42 months and round-the-clock work by 3,400 labourers and 250 engineers to complete. A sum of 2,989 crore was invested to build the world's tallest statue on the banks of river Narmada facing the Sardar Sarovar dam.
Also read: Maharashtra: Andheri wall collapse damages cars, 3 incidents in Mumbai