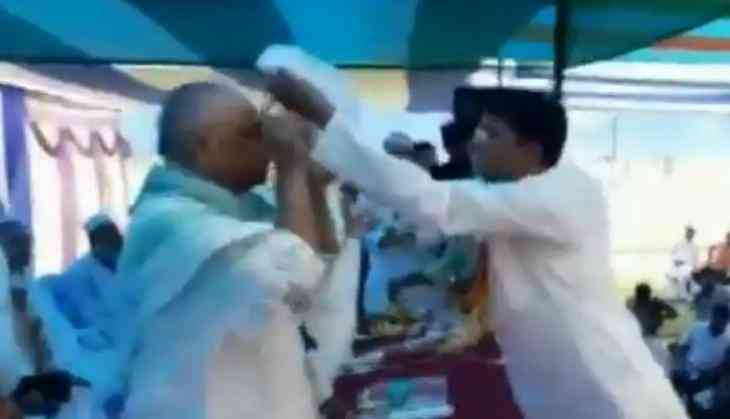 Bihar Minister Bijendra Prasad Yadav, under Nitish Kumar-led government has slipped into a fresh controversy after he refused to wear a skull cap in an event on Sunday. Mr Yadav was attending a conference of Muslim leaders in Bihar's Katihar.
The incident reportedly took place on Sunday at the Talimi Bedari conference organised by the Janata Dal (United) in which Bijendra Prasad Yadav was the chief guest. He was offered Skullcap that he refused to wear.
#WATCH: Bihar Minister Bijendra Prasad Yadav refuses to wear a skull cap offered to him at a conference in Katihar. (30/9/2018) pic.twitter.com/JeUtoWG0tv

— ANI (@ANI) September 30, 2018
In the conference, one of the organisers tried to put a skullcap on his head, where Yadav stopped him took the cap in his hands instead. Later he gave it to his assistant. He even removed the shawl which was given to him by the man.
Following which the some of the Muslim leaders present at the event started protesting against the refusal to don a skull cap. In no time, it took a political turn and opposition leaders took a jibe at the Bihar Minister as earlier JDU chief was the one to point out Narendra Modi refusal to wear a skull cap at Sadbhavna fast in 2011 when he was the Gujarat CM. "To govern a country like India, sometimes you will have to wear a skull cap and sometimes a tilak" he had said.
Reacting to the incident, Hindustani Awam Morcha (HAM) spokesperson said that the JD(U) is now in the grip of RSS ideology. He further added that Nitish had said "Kabhi topi lagani padegi aur kabhi tilak" and he now should ask his minister why he refused to wear a skull cap.