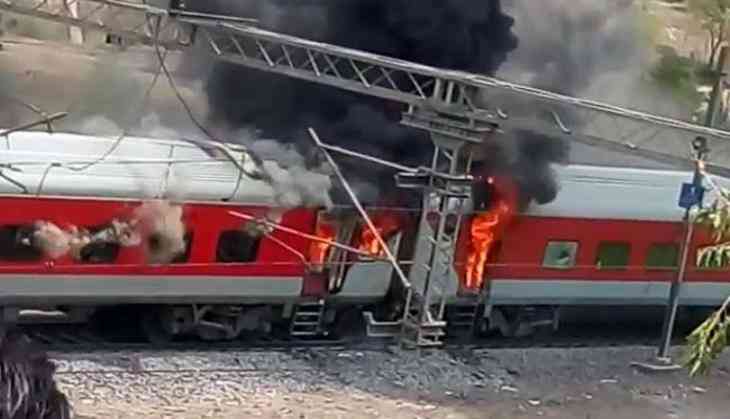 In a major accident, two coaches of Andra Pradesh AC Superfast Express train catches fire. The train was reportedly travelling from New Delhi to Visakhapatnam and two coaches of it caught fire near Gwalior in Madhya Pradesh on Monday. The fire has been brought under control; no injuries have been reported.
The fire started from the B-6 bogie and quickly engulfed the adjacent coach. "The fire spread from B-6 to B-5 coaches. Six coaches were segregated and sent to Gwalior. All passengers in the affected coaches were evacuated, No injuries have been reported so far," said Ved Prakash, director, publicity, Railway Board.
#UPDATE Fire broke out in 4 coaches of Andhra Pradesh Express near Birlanagar station in Gwalior. Fire under control now. All passengers safe #MadhyaPradesh (Earlier visuals) pic.twitter.com/QjZIrGaqOR

— ANI (@ANI) May 21, 2018
As per reports, the fire was detected in B6 coach at around 11:50 am on Monday when the train was near Birlanagar station in Gwalior. Railway PRO Manoj Kumar said a high-tension wire fell on the train resulting in the blaze starting from B6 and B7 bogies.
A video shot by an eyewitness, a thick, black smoke can be seen blowing out of the doors of the two air-conditioned coaches.
Another railway official Amit Malviya added that the boggies on fire were detached from the train and the train continued towards Gwalior. Three fire brigades were rushed to the spot which managed to douse the fire. There is no report of any casualty at present although some passengers suffered minor injuries after they jumped from the train as soon as it stopped. Senior railway officials from Gwalior reached the spot to supervise the relief and rescue work.