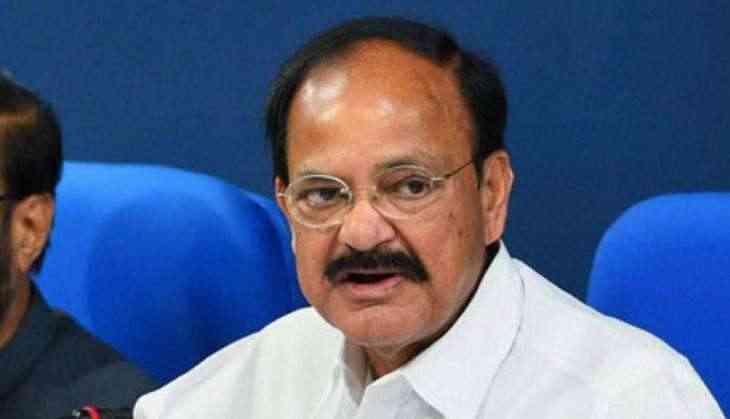 Hours ahead of his swearing-in ceremony, Vice-President elect M. Venkaiah Naidu on 10 August said that India is the best model of secularism.
Naidu also talked about the cultural diversity that resides in the country and amidst all the vast array of culture we are still one as a nation.
"alag bhaasha alag vesh phir bhi apna ek desh, vividhta mein ekta bharat ki visheshta. (Despite different languages, different attires, our country is one. Unity in the diversity is India's speciality)."
He expressed his sadness on the change in Indian politics from '4Cs to 3Cs' and said, "In politics, 3 Cs have entered - Cash, Caste and Community - and we must return to 4 Cs - Character, Caliber, Capacity and Conduct."
"Politicians have to look back and bring politics on the basis of Ideology, on the basis of programme and on the basis of issues. It is very important to do that..we have to think of ideological politics," he said.
He said that agenda of politics should be development.
"Another "unhealthy trend" that has come according to me is animosity in politics," he added.
He said India is the world largest and oldest democracy and that should be reflected in our conduct and behaviour.
"India is the most tolerant country in the world. Indian ethos is of mutual respect for each other," he added.
Naidu said he was given important responsibility under the leadership of Prime Minister Narendra Modi.
"Prime Minister wanted to transform the entire country and keeping this guidelines and keeping that spirit in mind our Urban development Ministry became pro-active. PM Modi said that we should make the 'Swachh Bharat Abhiyan' as a national movement and should be made a political agenda," former urban development minister said.
The Vice President elect said he had a very meaningful journey and has given his best in whatever responsibility he was entrusted.
Talking about agitations, he said that agitation should be peaceful, constructive and for the public costs.
Talking about the recent incidents of violence on cow vigilantism, Naidu urged Government at various levels to act upon such people.
"Incidents of man attacking another man in the name of cow and religion, caste have to be condemned. Government at various level should act upon them..secularism is practiced in a distorted manner," he said.
The former Union minister will be administered the oath of office by the new President of India Ram Nath Kovind at a function which is scheduled at Rashtrapati Bhavan on 11 August.
-ANI