Somi Das
| Updated on: 14 February 2017, 5:26 IST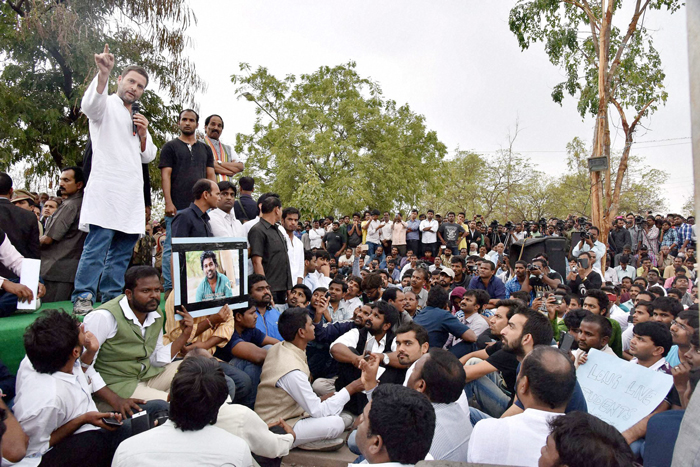 Why the attention
Rohith Vemula\'s suicide has stirred students\' protests across the country
The agitations have drawn the political class into action
Political capital
Several politicians made a beeline for Hyderabad on Tuesday
Congress VP Rahul Gandhi met students and Vemula\'s family
More in the story
Who is facing the most pressure?
University of Hyderabad resembled an election campaign ground on Tuesday, with leaders from various political parties making a beeline for the campus.
The impact of Rohith Vemula's suicide has been deep enough to spur calls for resignation of Human Resource Development Minister Smriti Irani and Bandaru Dattatreya, another Union minister.
Students continued their protest against the varsity administration, blaming it for Vemula's death. The dalit scholar, who killed himself on Sunday, was among five students expelled from the campus hostel.
His death sparked off agitation among students across the country, drawing politicians from the Congress to the Trinamool Congress, from the Bahujan Samaj Party to the Aam Aadmi Party. No party, of course, wanted to miss the chance of making political capital.
Rahul Gandhi makes a good show
Congress Vice-President Rahul Gandhi was one of the first leaders to reach the campus and interact with students. He was accompanied by senior Congress leader Digvijay Singh.
Rahul offered his sympathy to Vemula's family and friends, some of whom have been on hunger strike and listened to their grievances. When his turn to speak came, he declared he wasn't trying to politicise the death and had come there as a "young man".
He was disturbed by the fact that even after so many decades of independence, distinctions were made on university campuses based on the caste and community of an individual.
Rahul Gandhi: The institution instead of operating freely usd pwr to crush them, VC & Minister have not acted freely pic.twitter.com/36Nktd7COJ

- ANI (@ANI_news) January 19, 2016
The Congress VP backed the student's demand for sacking Dattatreya and VC Appa Rao amid cheers from students.
"Whenever a university student dies, whether he commits suicide or dies due to illness or an accident, it is the duty of the university authority to at least come and console the family of the student. This VC didn't even have the diginity and the decency to meet the grieving mother of Rohith," he said.
"Whoever is responsible for Rohithh's death, whoever did this, the minister, the VC and anyone else who is involved should be punished."
The University of Hyderabad was not the only campus facing a saffron ideological onslaught, he said. "This is happening in all educational institutions. You are not alone...students should have the right to feel and say whatever they want."
According to him, Parliament must pass a legislation barring the Centre from enforcing its will and wishes on an institution.
"My doors are always open for you. You can come to me whenever you want," Rahul told the students.
A political war zone
The suicide, following the students' expulsion from the university hostel on 18 December, turned into a political tussle because of the involvement of Sangh Parivar students' organ Akhil Bharatiya Vidyarthi Parishad (ABVP) and the Bharatiya Janata Party (BJP) in the string of events that led to the unfortunate consequence.

According to media reports, as many as four letters and one e-mail were exchanged between the Union Human resources Development Ministry and the vice-chancellor of the varsity.

HRD Minister Smriti Irani, though, denied any interference. Here are copies of the letter shared between the Ministry and the VC.
1. Copy of HRD Ministry's 1st letter dated 03.09.15 to Hyderabad Univ registrar. @IndianExpress #RohithhVemula pic.twitter.com/P8zTNesl0N

- Ritika Chopra (@KhurafatiChopra) January 19, 2016
2. Copy of HRD Min's 2nd reminder to Hyderabad Univ registrar to provide comments on MoS letter @IndianExpress pic.twitter.com/8M6eszq4sa

- Ritika Chopra (@KhurafatiChopra) January 19, 2016
3. Copy of HRD's 3rd reminder to Hyderabad Univ V-C @IndianExpress #RohithhVemula pic.twitter.com/wcKr1jt7v4

- Ritika Chopra (@KhurafatiChopra) January 19, 2016
4. Copy of HRD's 4th reminder to Hyderabad Univ V-C. @IndianExpress #RohithhVemula pic.twitter.com/xUL6lP6j22

- Ritika Chopra (@KhurafatiChopra) January 19, 2016
The communication trail started with Union Minister of State for Labour and Employment Bandaru Dattatreya's letter to Irani to bring to her notice the alleged "anti-national and casteist" activities of the university's students.
Allegedly, this exchange of letters led to the expulsion of the students and eventually drove Vemula to take his life.
With two BJP ministers under the scanner, the Congress and other opposition parties have found enough grounds to target the ruling party, calling it anti-Dalit.
The Congress has demanded the immediate sacking of Dattatreya. On Monday party leader RPN Singh said, given the facts of the case, the minister and the VC shouldn't be allowed to continue in their respective offices.
Mayawati, whose political career has centred around the dalit identity, sent a two-member BSP fact-finding team to the campus. On the behalf of Mamata Banerjee's TMC, Rajya Sabha member Derek O'Brien went to Hyderabad.
BJP ally and Union Minister Ram Vilas Paswan condemned the killing and demanded a high-level, fair investigation. On Twitter, the dalit leader announced that a two-member team from his Lok Janashakti Party has left for Hyderabad.
Paswan's son and LJP leader Chirag reiterated the point:
There should be fair probe by an independent agency, be it CBI or other: Chirag Paswan on Dalit scholar's suicide pic.twitter.com/reY61PmlJL

- ANI (@ANI_news) January 19, 2016
BJP's own leader Sanjay Paswan, a minister under Atal Bihari Vajpayee, warned of dire consequences:
the stake holders of power politics must take serious note of Rohith vemula episode or be ready to face wrath , revenge , revolt , reactions

- Sanjay Paswan (@sanjaypaswanbjp) January 19, 2016
Others were not left far behind. Twitter was abuzz with politicians venting out:
Deeply saddened at the tragic death of Dalit student Rohith Vemula in Hyd. Govt must ensure fair probe & action against those responsible.

- Nitish Kumar (@NitishKumar) January 19, 2016
Feeling sad and disgusted about the death of Rohith Vemula. The circumstances leading to his death should be probed.

- Rajeev Shukla (@ShuklaRajiv) January 19, 2016
The Death of Rohith Vemula should shake the confidence of people in Modi Govt if doesn't then WHAT will .... Remember Youth 60% of our Popul

- Asaduddin Owaisi (@asadowaisi) January 19, 2016
Modi govt constitutionally duty bound to uplift dalits. Instead Modi ji's ministers got five dalit students ostracised n suspended(1/2)

- Arvind Kejriwal (@ArvindKejriwal) January 19, 2016
It's not suicide. It's murder. It's murder of democracy, social justice n equality.Modi ji shd sack ministers n aplogoize to the nation(2/2)

- Arvind Kejriwal (@ArvindKejriwal) January 19, 2016
Rohith Vemula's suicide isn't an administrative issue. It raises fundamental questions about our society and polity which we must confront.

- Gul Panag (@GulPanag) January 18, 2016
Another AAP leader Sanjay Singh criticised the Narendra Modi government for "failing to protect the interests of the marginalised community". He said: "Under this government the minorities and the backward classes are either killed or driven to death."
Will the political visits help?
What Rahul said on Tuesday was similar to what he had told the protesting students of Film and Television Institute of Inda. But he never fulfilled his promise of raising their issue in Parliament.
With political parties making a beeline for the campus and protests outside Dattatreya's residents, the pressure on the minister to resign is immense.
His head may roll, but will the scurrying around for a piece of the political pie help the cause of dalit students fighting against - as evident from Vemula's suicide note - the prevalence of identity politics and disrespect for merit?