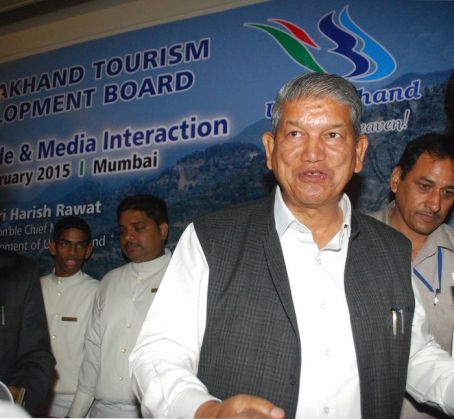 The Congress government in Uttarakhand is on shaky ground after nine party MLAs - including a minister - joined hands with the opposition Bharatiya Janata Party (BJP) overnight.
As many as 26 BJP MLAs and nine rebel Congress legislators arrived in the national capital last night. A three-member delegation, comprising senior BJP leader Bhagat Singh Koshiyari, Uttarakhand in-charge Shyam Jaju and party general secretary Kailash Vijayvargiya met Uttarakhand Governor KK Paul on 18 March and demanded the dismissal of the Harish Rawat-led government while stating that it was in a minority. The BJP staked claim to form the government with the support of the rebel Congress MLAs.
On 19 March, Chief Minister Harish Rawat said that the welfare of the state was his priority and said he would tender his resignation if he was unable to prove majority.
Rawat told media personnel that the nine rebel leaders should have first spoken to the Speaker or the Governor before taking such a step. He said he was ready to give the nine MLAs time to apologise for their action. He said:
"Around four to five rebel MLAs are in touch with us now and I am giving them a chance to accept their mistakes. Their conduct was wrong and if they won't accept it then action will be taken. So far, five of them have contacted me."
Adding that the Congress in the state was ready to prove majority in the House, he said that the ruckus created by the BJP after the adjournment was wrong and said that those who supported it were equally guilty. Lashing out at the BJP leaders for 'misusing the central machinery', he said the Opposition was making desperate attempts to get rid of the Congress government in the state.
"Their schemes will fail for sure. I will prove my majority on the floor of the House. I am a democratic individual and the moment I lose my majority, I will offer my resignation. The BJP is flustered right now keeping 2019 in mind, which is why they are attacking our government."
Issuing a challenge to the rebel MLAs, he dared them to prove their majority in the House and not "run" to New Delhi.
Meanwhile, following the massive upheaval, the Congress alleged that Prime Minister Narendra Modi and BJP chief Amit Shah were using "sinister means to destabilise elected governments". Congress spokesperson Randeep Surjewala said that PM Modi and Shah had become "infamous for forcible evacuation of elected governments".
"First, elected governments are destabilised by a sinister conspiracy and then they are sought to be unseated without the will of people. First Arunachal and now Uttarakhand. Modi and Amit Shah are trying to destabilise Opposition's government, particularly Congress Party's government."
-ANI