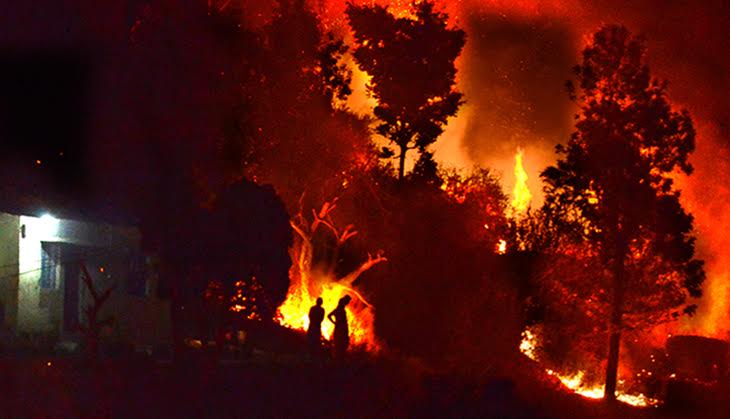 Four villagers were arrested in Uttarakhand on Monday for allegedly starting fires even as the NDRF and fire fighters struggle to douse the flames that have been destroying forests for the past few days.
According to Uttarakhand additional chief secretary S Ramaswami, cases were registered against the villages under the Indian Forest Act and the Indian Penal Code.
Under section 30 of the Forest Act, people guilty of burning forests can be sentenced to seven years' imprisonment or a fine of more than Rs 1 lakh. "Villagers are culprits, cases have been lodged against them," said BP Gupta, chief conservator of forest (CCF) and nodal officer.
The police are investigating the possibility of the fires being deliberately set by the local timber mafia, according to the Hindustan Times. "We are investigating all possible reasons, including the timber mafia's involvement," a police officer said.
In Chamoli district, a police constable was killed by a falling rock while he worked on a dousing mission.
Forest fires are usual in summer, started by villagers to clear ground for fresh vegetation after the monsoon. However, the blazes may have been set earlier this year because of a forest fodder shortage caused by drought in 11 districts of the state, particularly Pauri and Pithoragarh.
More than 2,900 hectares of forest have been razed in last three months, and the fires have killed at least four people so far.
Local volunteers have joined more than 6,100 personnel from various agencies to fight the fires. Three IAF helicopters have also been deployed, carrying water to douse the flames. But the volunteers complain of poor equipment that leads to injuries.
The fires spread to Jammu and Kashmir and Himachal Pradesh, where, according to The Telegraph, the well-known Lawrence School in Sanavar near Kasauli had a panicked two hours when the flames drew close to the school. The blaze, however, was put out within two hours and all the students are safe.