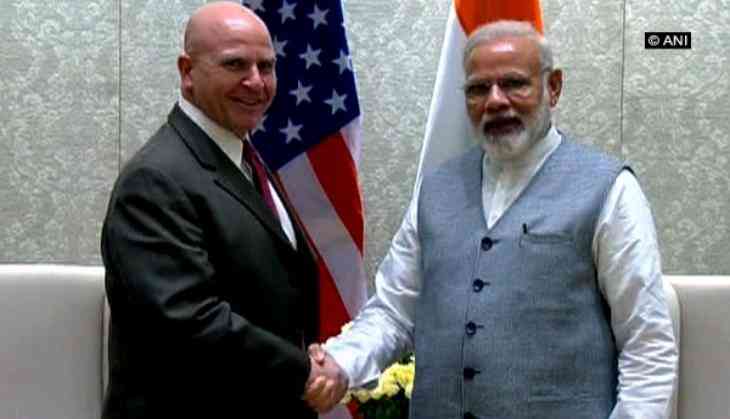 US NSA meets Indian counterpart Doval, PM Modi (ANI)
U.S. National Security Advisor HR McMaster on Tuesday met Prime Minister Narendra Modi at the latter's official residence at 7, Lok Kalyan Marg here.
Foreign Secretary S. Jaishankar and National Security Advisor Ajit Doval were also present during the meeting.
McMaster earlier in the day met his Indian counterpart Doval.
McMaster yesterday met Pakistan Prime Minister Nawaz Sharif and discussed bilateral ties, Afghan situation and rising tensions between India, Pakistan.
Lt. Gen. McMaster also met Adviser to the Prime Minister on Foreign Affairs Sartaj Aziz in Islamabad.
Aziz briefed Lt. Gen. McMaster on the policies being pursued by the Pakistan government that have resulted in improved security environment and economic turnaround in the country.
The Dawn quoted Aziz, as saying that Pakistan remains determined to continue its fight as part of the National Action Plan until terrorism is completely eliminated from the country.
Expressing Pakistan's concerns over the deteriorating security situation in Afghanistan, Aziz reaffirmed Islamabad's commitment to working with the international community to support peace efforts in Afghanistan.
He also stressed the importance of effective border management to achieve sustainable peace in the region.
Lt. Gen. McMaster thanked Aziz and acknowledged Pakistan's sacrifices in combating extremism and terrorism. He renewed the commitment of the new administration to work closely with Pakistan in strengthening mutually beneficial relations and towards the shared objectives of peace and stability in Afghanistan and the region.
Lt. Gen. McMaster, who is on his maiden visit to Pakistan after being elected as President Donald Trump's National Security Advisor, will next visit India to assess the situation in the two countries and then report back to the White House.
-ANI