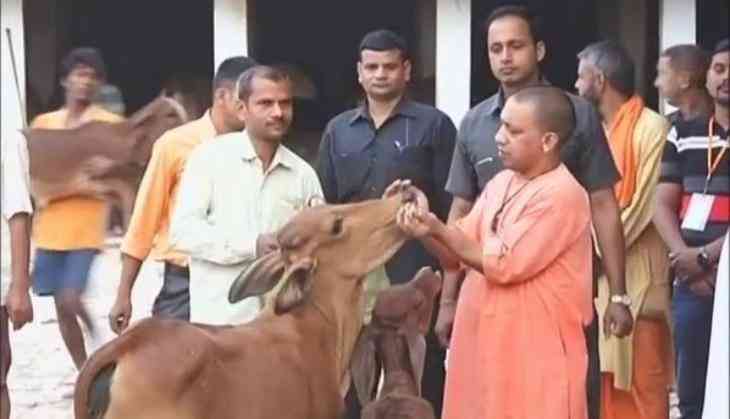 UP: Yogi Adityanath begins Sunday morning among cows (ANI)
Chief Minister of Uttar Pradesh Yogi Adityanath started his day with his ritualistic practice of feeding cows and calves in the cowshed of his parliamentary constituency Gorakhpur on Sunday.
For over two decades, Yogi has devotedly observed the practice of feeding the cows. According to him, the cows recognize him and that he has also named some of the animals close to him.
Reports also emerged that Yogi will not be kept away from his 'favorite' cows as many of them will soon be shifted to his sprawling 5-Kalidas Marg residence in Lucknow.
'Gauseva' or service of cows has been a part of the 44-year old priest's regimen for several years during which he has developed a bond of affection with many of them.
Earlier talking to media, 'Cows are also required in religious rituals of the Hindus. Cowsheds will be promoted in all the districts. The central government is also promoting cowsheds in UP and other states. We will take the assistance of the central government in setting up cowsheds and dairies.'
This is not for the first time, Yogi often begin his day tending to cows. On March 22, Yogi directed police officials to prepare an action plan for closure of slaughter houses across the state.
He also ordered a blanket ban on smuggling of cows and said zero tolerance would be exercised in this regard. Cow protection was among top priorities of the newly-formed Uttar Pradesh Government. (ANI)