The feud in the Yadav family reared its head once again on 23 October when Uttar Pradesh Chief Minister Akhilesh Yadav sacked his uncle Shivpal from the state cabinet along with three other ministers.
Samajwadi Party chief Mulayam Singh Yadav retaliated by suspending SP general secretary Ramgopal Yadav from the party for six years.
Political pundits have predicted that the ruling party in UP may be heading towards a split.
In the latest development, SP supremo Mulayam has summoned all senior leaders, MPs and MLAs, former MPs and MLAs for a meeting at the party headquarters on 24 October.
Live Updates:
02:30 pm: Crucial meet at Mulayam Singh Yadav's residence ends.
01:38 pm: Meeting between Akhilesh and Mulayam continues at latter's residence.
12.27 pm: SP meet ends.
12:26 pm: Heated argument breaks out at the meeting. Mulayam accuses son, Akhilesh, of lying. "Aapka mukhyamantri jhooth bolta hai (Your CM is lying)"
12:15 pm: Mulayam Yadav appeals to Shivpal and Akhilesh to work together
11:55 am: "Look at PM Modi, he became PM with dedication & struggle. He comes from a poor family, says he can't leave his mother" Mulayam said. "I tell Akhilesh things but he focuses on other things; abusing people does not help," he added.
11: 50 am: I can't leave Amar Singh or Shivpal Yadav. All of Amar Singh's sins are forgiven.
11:45 am: I will never forget the work Shivpal has done for me and Samajwadi Party. Drunkards, goons have been added to the party. You get some power and it goes to your head. Shivpal Yadav is leader of the masses.
11: 37 am: Some ministers are just busy being sycophants. And people who can't think big can't be a minister: Mulayam Yadav
11: 28 am: I feel really sad because of this rift in our family. We have worked really hard to form this party: Mulayam Yadav
11:26 am: Mulayam Singh Yadav addresses party workers inside SP office.
11:20 am: Under the leadership of Netaji we will to form the next government in UP: Shivpal Yadav
11:07 am: I welcomed Akhilesh when he was made state President. But what happened when I was sacked? When I was made state president, did I work any less than Akhilesh?: Shivpal Yadav
11:05 am: Akhilesh Yadav told me that he will form another party, he said it, he said it to me: Shivpal Yadav
11:02 am: Indiscipline will not be tolerated in this party. This party has reached such heights only because of Netaji: Shivpal Yadav
10: 59 am: Shivpal Yadav addresses party workers inside SP office.
10:45 am: Akhilesh Yadav breaks down while giving a speech at SP office in Lucknow. He said, "If Netaji asked me for resignation I would have given it."
10:42 am: "Agar Netaji ya party ke khilaaf koi shaazish ho rahi hai to mai uski kaarwaahi karunga (I will investigate if there is any conspiracy against Netaji or party: Akhilesh)": Akhilesh
10:40 am: "People are saying a new party will be formed. Who is forming is a new party? I am not": Akhilesh Yadav.
10:35 am: Akhilesh Yadav addresses party workers. "Give me time to speak in front of Netaji and Shivpalji because many people trying to create confusion about me," he says.
10:20 am: Mulayam Singh, Akhilesh Yadav reach meeting venue.
10:15 am: Police use force to disperse protesters outside SP headquarters as clashes between supporters of CM Akhilesh and Shivpal Yadav escalate.
#WATCH Clash between Akhilesh Yadav supporters & Shivpal Yadav supporters outside SP office in Lucknow. pic.twitter.com/TuMtvxtL5C

— ANI UP (@ANINewsUP) October 24, 2016
09:55 am: Ram Gopal Yadav's son Akshay Yadav has released an open letter. Akshay has expressed sorrow at his father's expulsion. "Akhilesh was treated so badly that he was forced to shift to a new. His belongings were thrown out of his room and it was locked while the CM shifted to a new house house. My aim is to see Akhilesh Yadav as the CM again," he alleges in the letter.
Read the letter here: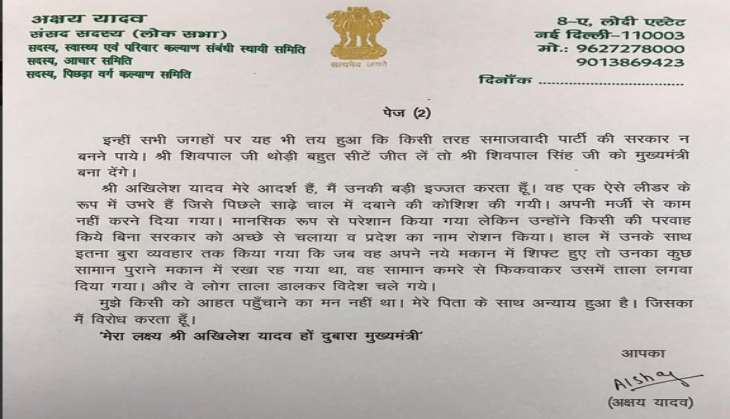 09:40 am: Supporters of Shivpal Yadav and Akhilesh Yadav clash outside the SP office.
09:25 am: After reaching the party office, Shivpal said, "We are preparing for upcoming elections and will directly meet people, I knew this will happen someday."
09:24 am: Shivpal Singh Yadav has reached the party office in Lucknow.