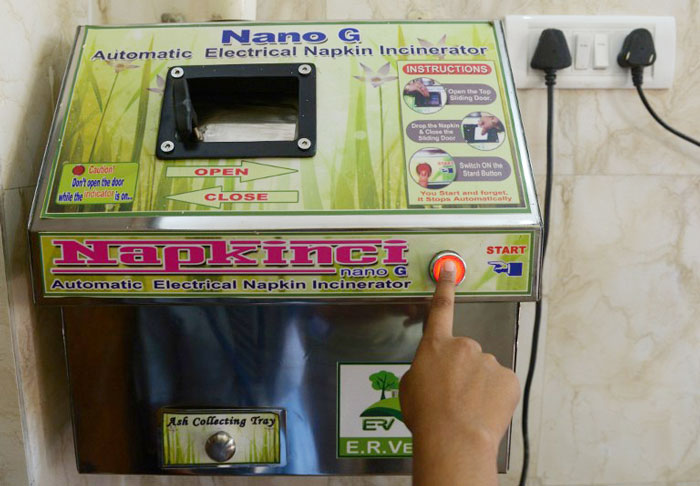 The Avadh Girls' Degree College of Lucknow University has installed an automated sanitary pad vending machine on its premises. The college made this decision amid concerns over the high dropout rate of girls because of menstrual hygiene issues.
A 'bold' step
"We installed the machine around a week ago and the response from the students is very good," AGDC manager Nishi Pandey told PTI.
Pandey said the students are being charged Rs 10 per pad.
"We are also considering installing a disposal machine, as the pads are not disposed of hygienically," she added.
Pandey, who also teaches in Lucknow University, said a similar unit was being planned for the Department of English and the girls' common room in LU.
"We are awaiting approval of the vice-chancellor," she said.
What do the figures say?
Unavailability of sanitary pads, absence of separate toilets for girls and lack of water in toilets all affect the attendance of girls in schools and colleges. A study by AC Neilson on 'Sanitary Protection: Every Woman's Health Right' claims that 20 to 30 per cent of girls in North India drop out of schools after they start menstruating.
Inadequate menstrual protection makes adolescent girls (age group 12-18 years) miss five days of school every month (50 days a year). Around 23 per cent of these girls drop out of school after they started menstruating.
Only 12 per cent of Indian women use sanitary napkins while others are at risk of health problems.
Time to act
The UP government decided last year to distribute sanitary napkins free of cost to girls studying in government schools from class 6 to class 12, at a cost of Rs 19.74 crore to the state exchequer.
Earlier this year, Chief Minister Akhilesh Yadav had directed all the district magistrates in the state to ensure steps to address menstrual hygiene issues, and asked them to promote the manufacture and distribution of low cost sanitary napkins in their respective districts.
Privacy is another issue, particularly since menstruation, is a taboo topic. Just the word, spoken in hushed tones, is treated with shame and disgust. "This has to change," says founder of Sulabh Sanitation Movement Bindeshwar Pathak. "In schools, there is no privacy to change when required and the girls feel hesitant to seek permission to go home."