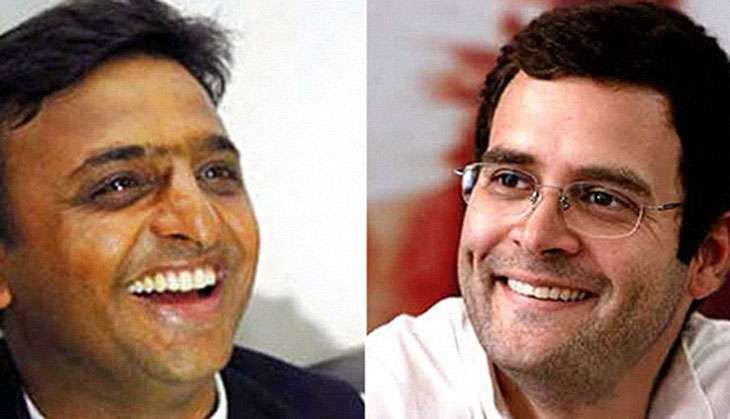 Congress vice-president Rahul Gandhi and Uttar Pradesh Chief Minister Akhilesh Yadav will address a joint public meeting on Friday in Agra days after the duo addressed their first joint press conference and held a road show in Lucknow walking shoulder to shoulder.
The two leaders are expected to send out a strong message to party cadres, urging them to work together to ensure the defeat of Bharatiya Janata Party ( BJP) and Bahujan Samaj Party ( BSP) in the upcoming Uttar Pradesh Assembly polls.
Earlier on 29 January, the duo in their maiden outing in Lucknow shared tight hugs and warm handshake besides donning same coloured jackets.
Gandhi dominated the interaction comparing the alliance between the Samajwadi Party and Congress with the confluence of the rivers of Ganga and Yamuna that join at 'sangam' to form the river Saraswati.
Declaring that their combined objective was to "defeat the fascist forces," respond to "politics of hate" and counter divisive ideology, the two leaders said that the Congress-Samajwadi Party alliance would usher in a "storm of development".
Both leaders resorted to symbolism to drive home their point.
Gandhi said that he shared both a "personal and political relationship" with Akhilesh and their coming together was akin to the "meeting of the Ganga and Yamuna at the Sangam."
Akhilesh, in turn, pronounced that they were "two wheels of the cycle."
The leaders also released the joint campaign slogan 'UP koh yeh saath pasand hai' (UP relishes this alliance).
Uttar Pradesh will be voting for a new state assembly in a seven-phase election between 11 February and 8 March.
Out of the 403 assembly seats, the Congress will be contesting in 105 seats and the Samajwadi Party will field its candidates in rest of the 298 seats.
-ANI