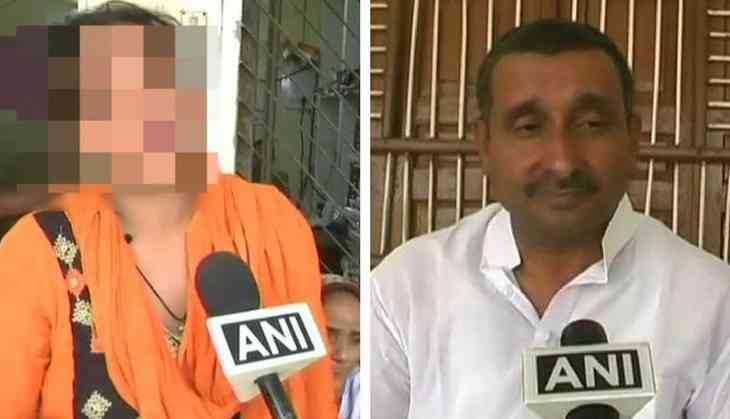 The major development in the most burning case of the country, Unnao rape case is that Uttar Pradesh Home Secretary Arvind Kumar has revealed the shocking news to the media. He said that rape survivor didn't mention the name of the accused MLA Kuldeep Singh Sengar in her statement given in 2017.
Earlier, another Bhartiya Janata Party (BJP) MLA Surendra Singh also gave the controversial remark over the rape case. He said that the victim had filed a 'false rape case' against a man in the past.
However, Allahabad High Court has asked from Yogi government to take a stand on the Unnao rap case. Court also questioned to CBI why they have not taken any step on this matter. The court also asked to the SIT about the investigation into the gang-rape case.
A Bench of Chief Justice D B Bhosale and Justice Suneet Kumar, is taking cognizance of the gangrape case.
Meanwhile, an FIR has been registered against the BJP MLA Kuldeep Singh Senger, whose is also involved with the alleged rape of the Unnao girl. Police have charged the various sections of IPC and POSCO Act.
Earlier on 11 April, BJP spokespersons, Deepti Bharadwaj also attacked on the party and also urged to party president Amit Shah to 'save UP'and also requested to take the strict action against the perpetrators of a rape in which BJP MLA is accused.
She took to Twitter and wrote:
आदरणीय भाई @AmitShah जी
उत्तर प्रदेश को बचा लीजिए, सरकार के निर्णय शर्मसार कर रहे हैं। ये कलंक नहीं धुलेंगे। आदरणीय भाई @narendramodi जी और आपके साथ हम सबके सपने चूर चूर होंगे

— Dr.Deepti Bharadwaj (@deeptibharadwaj) April 11, 2018
As per the reports, CBI will take a call on the BJP MLA whether he should be arrested or not.
Also read: Unnao case: Top cop addresses accused BJP MLA as 'mananiye'