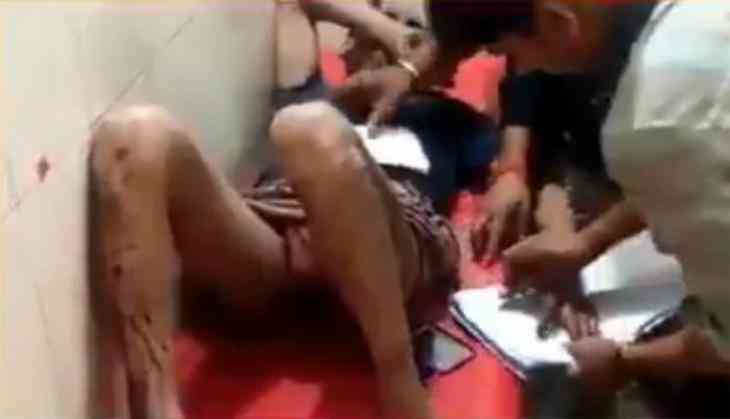 The horrific incident of Uttar Pradesh's Unnao district has stunned the nation when a woman attempted to commit suicide accusing BJP MLA Kuldeep Singh Sengar of allegedly raping her along with his brother. The father of rape victim was in police custody for the interrogation where he was beaten to death. A video linked to Unnao gangrape case has been going viral on social media.
According to the leading portal, in the video, the Kuldeep Singh rape case victim's father is seen in an unconscious condition and bleeding, laying on a stretcher. The video claims that the cops are taking the thumb impression of the victim's father over the document papers.
#Video : जब उन्नाव गैंगरेप पीड़ित के पिता बेहोश पड़े थे तब कुछ लोग उनके बेहोशी की हालत में अंगूठे लगवा रहे थे ।
Video Source - @WeUttarPradesh pic.twitter.com/jg0lPdC99x

— Vikas Yogi (@vikaskyogi) April 10, 2018
The Three people are seen standing near the stretcher of the victim's father. Among them, there is one man in a police uniform. The video shows that blood is coming out from the feet of the person and is in serious condition, lying on the stretcher. Instead of helping him, the two men standing near him are taking a thumb impression on some papers. The video shows that this whole work is being done rapidly.
Let us inform you that, the father of the rape victim died on Monday in the police custody. On Tuesday, the postmortem report claimed that the victim's father died due to wounds of his injury. He was beaten so cruelly that the intestines of his stomach detonated.
Also read: Unnao Rape Case: Accused BJP MLA's brother held over the death of victim's father; Rahul Gandhi slams CM Yogi, says 'Beti bachao khud maare jao'