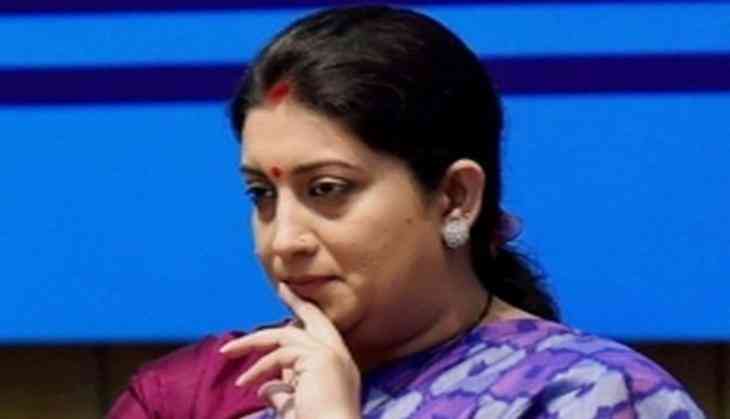 As the Sabarimala temple row has gained popularity due to protests by several sections in the society in Kerala, the Union Minister for Textiles Smriti Irani has commented upon the issue but later tweeted that it's a fake news.
Irani was speaking at an event in Mumbai where she said that "It is plain common sense. Would you take sanitary napkins soaked in menstrual blood to a friend's home? You will not. And do you think it is respectful to do the same thing when you walk into the house of God? So that is the difference. That is my personal opinion."
"I am nobody to speak on the Supreme Court verdict as I am a serving Cabinet minister but I believe I have the right to pray, but not the right to desecrate," the Union textiles minister was quoted as saying by news agency ANI.
Smriti Irani, in response to a Guardian journalist Michael Safi on Twitter, said it's a "Fake news….calling you out on it. Will post my video soon." The journalist had quoted a report published by The Indian Express about the minister's comment on Sabarimala temple.
"I am a Hindu married to a Parsi. I have ensured that my two children practice Zoroastrianism. Both of them have done their Navjote. When I took my new-born son to a fire temple in Andheri, I had to give him at the temple gate to my husband because I was shooed away and told 'yaha mat khade raho (Do not keep standing here)'," she said.
#WATCH Union Minister Smriti Irani says," I have right to pray,but no right to desecrate. I am nobody to speak on SC verdict as I'm a serving cabinet minster. Would you take sanitary napkins seeped in menstrual blood into a friend's home? No.Why take them into house of God?" pic.twitter.com/Fj1um4HGFk

— ANI (@ANI) October 23, 2018
Fake news ...... calling you out on it. Will post my video soon. https://t.co/ZZzJ26KBXa

— Smriti Z Irani (@smritiirani) October 23, 2018
Smriti later on added that "As I am not allowed to accompany my husband and children inside fire temples, I either stand on the road or wait in the car."
The news agency later on posted the video of the event and cleared the air about the 'fake news' comment by the Union Minister Smriti Irani.
Also read: Amritsar Train Accident: 25 of 29 Dussehra events, including the tragic Joda Phatak incident did not have a clearance