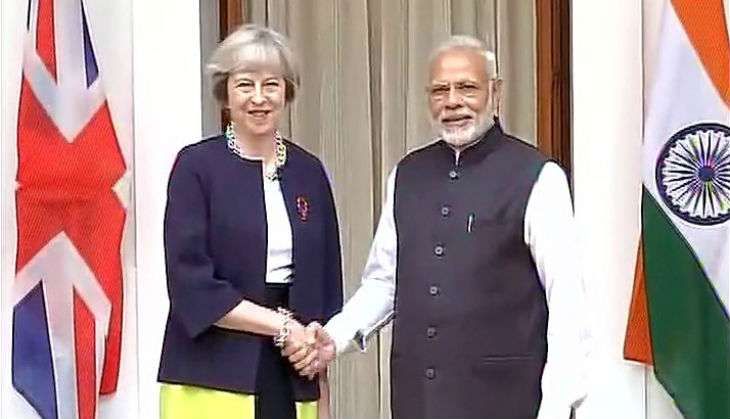 In a clear message that Britain is open to business opportunities with the rest of the world, especially with India, post the Brexit episode, British Prime Minister Theresa May said on 7 November that visa process would become easier and accessible so that people invest their ideas and skills and added that a "Registers Travelers" scheme would be introduced to meet the growing demand of travelers.
"Listening to the fact that so many people from India want to bring their ideas, skills and business to Britain for the good of India's and UK's economy and, we will offer, for the first time, to any country that needs visas to enter Britain, what is called the Registers Travelers scheme, that means that Indian nationals who frequently come to UK and who offer growth in both the countries, the entry process will become significantly easier, fewer forms to fill out, access to the EU passport control, swifter passage through our airports. In short more opportunities for brine and India," May said.
Speaking at the Tech Summit held at New Delhi, in her first foreign visit outside the European Union, May called upon its "natural partner" India and highlighted cultural links shared between India and UK.
"With so much in common when it comes to trade, values, culture and of course people with one and a half people Indian origin people living in Britain, ours is a natural partnership, look around India and Britain and you can see the evidence. We listen to each other's music, eat each other's food and share a passionate game of cricket with each other," May said.
Also Read: Science is universal but technology has to be local: PM Narendra Modi at India-UK Tech Summit
The British Prime Minster further stressed on greater trade between India and U.K. to foster growth and employment in both the countries.
"There is so much potential when it comes to India-Britain relationship, we have a special bond. In Britain we are working on economic and social reforms. Indian investment is helping us diversifying our economy. I would use this visit to discuss with PM Modi and his team and Indian businesses on how we can work together to seize those possibilities, building a partnership to focus resolutely on shaping our shared future bilaterally and on the global stage," May said.
At the Summit, government officials, business leaders and scientists engaged together to see how best science and technology collaboration can be leveraged to open up new opportunities for bilateral business, trade and investment.
British Prime Minister Theresa May arrived in the national late on 6 November on a three-day visit to India. During the meeting, she will hold bilateral talks with Prime Minister Narendra Modi.
India is likely to raise its concerns over problems being faced by its students in the United Kingdom due to visa curbs.
May will leave for Bengaluru on 8 November, on the second leg of her India visit, where she will meet Karnataka Chief Minister Siddaramaiah.
--ANI