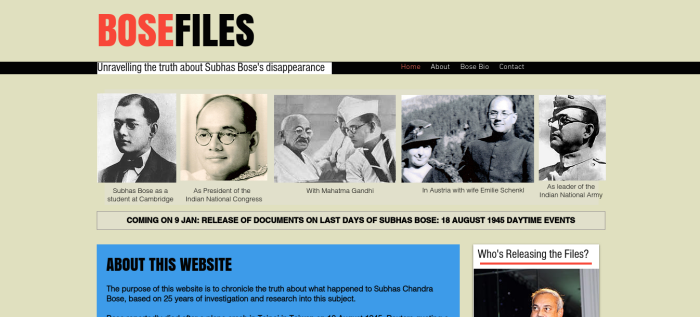 A new set of documents, which have been released by a UK-based website set up to chart the last days of Netaji Subhash Chandra Bose, has dismissed the claims that he may have been spotted in China years after his death in a plane crash.
The website - www.bosefiles.info - reproduced a telegram from the Indian Embassy in Beijing contradicting claims in India about the nationalist leader being in the Chinese capital in 1952.
In 1955, long after Netaji was reported dead as a result of a plane crash in Taiwan in 1945, S.M. Goswami, an ardent admirer of Bose, published a pamphlet in India with the heading 'Netaji Mystery Revealed'.
It carried a picture of Chinese officials with a Mongolian trade delegation said to have been taken in 1952. Goswami pointed out one of the persons in the photograph to be Bose.
Appearing as a witness before the 1956 Netaji Inquiry Committee, he presented the photo as evidence of Bose being alive, contrary to reports of his death in 1945.
The committee sent the exhibit to the Indian Embassy in Beijing for identification. The diplomatic mission forwarded it to the Chinese Foreign Ministry.
Following a response from the Chinese Foreign Ministry, the embassy cabled India's Ministry of External Affairs: "Concerning alleged photograph of Subhas Chandra Bose: We showed this to Foreign Office who have informed us that the photograph is of Lee Ke Hung, Medical Superintendent of PUMC (Peking University Medical College)."
Ashis Ray, the London-based journalist who has set up the website, said: "The telegram exposes one of countless attempts over 70 years to spread disinformation about Subhas Bose."
On December 7, bosefiles.info exposed claims about Bose having escaped to the Soviet Union in 1945.
It posted two diplomatic notes from the Russian Ministry of Foreign Affairs sent in 1992 and 1995 respectively and a public statement by the then Russian Ambassador in India in 1996, which unanimously confirmed there was no information in the Soviet or KGB archives about Bose entering the Soviet Union in or after 1945.
-ANI