Somi Das
| Updated on: 10 February 2017, 1:50 IST
Pahlaj Nihalani, the chief of the Central Board of Film Certification (CBFC), has finally given up all pretense of being politically neutral.
In an interview with NDTV, without even attempting to camouflage his political allegiance, he said, "Yes, I am a chamcha of my PM. Should I be the chamcha of Italy's PM?" This when the central government has completely washed its hands of the entire Udta Punjab controversy.
The CBFC, ominously nicknamed the Censor Board, has agreed to give Udta Punjab an A certificate but one condition -- that the makers of the Shahid Kapoor film agree to incorporate the 89 cuts suggested by the revising committee.
The suggestions made by the revising committee have led to a national-level controversy.
Here is how Pahlaj Nihalani has addressed the controversy surrounding the film starring Shahid Kapoor and Alia Bhatt, which is based on the acute drug addiction problem among the state's youth:
1. The filmmakers want publicity. That's why they are making an issue out of the 89 cuts made in the film by the board.
2. Anurag Kashyap is an AAP affiliate.
3. He has taken money from AAP to defame Punjab.
Going by Kashyap's version, this is what his film Udta Punjab has been through:
1. The film, which is due for release on 17 June, was sent for certification to CBFC on 10 May 2016. To begin with. the film had sought an A-certificate.
2. The Censor Board, however, sent it to the review committee which suggested 89 cuts. This included removing the word Punjab from the title, names of places in Punjab --Jalandhar, Amritsar, Chandigarh, a scene with Punjab sighboard, and references to elections, MLAs, MPs etc.
3. In the most bizarre demand, the review committee wanted to sanitise the film of all close up shots showing actors injecting drugs.
Here's a copy of the cuts the Board wants: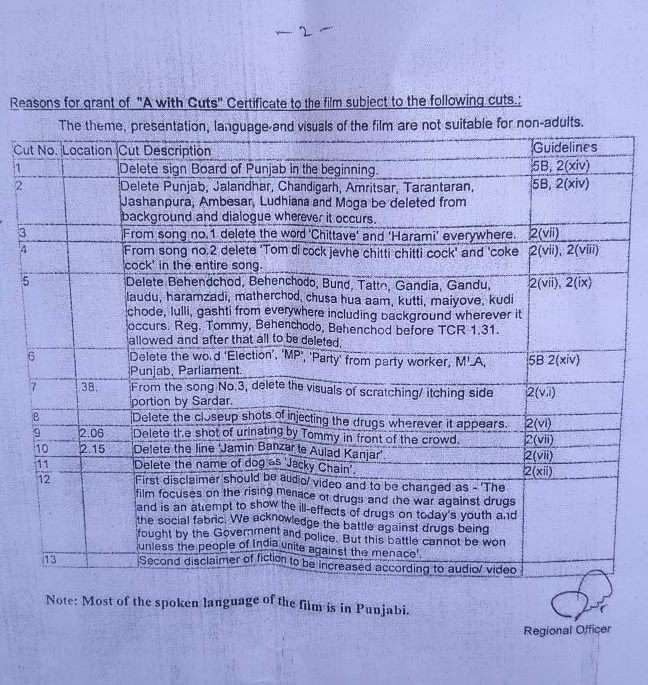 Source: DNA
4. The filmmakers allegedly were not given a written communication about the state of certification.
4. There were news reports about the review committee being under political pressure from the ruling party in Punjab -- Shrimani Akali Dal (SAD), which is in an alliance with BJP.
But why is Kashyap being labelled as an AAP supporter? The reason is that his film deals with the problem of drug addiction in Punjab. AAP, which has ventured into the political arena in Punjab this year and will be contesting the Assembly election in 2017, has also been targeting the 'drug mafia' in Punjab. In fact, party leader Kumar Vishwas came out with a Bollywood style song to highlight the extent of the problem in the state.
In a facebook post today, Kashyap wrote:
His accusing me of taking money from AAP is not just a lie , is a diversion from the real issue to make the fight for a filmmaker's right into a political battle. And in this he is being helped by all the trolls to make sure that the real issue somewhere is lost in the political blame game. So I request to not get involved in any rumour mongering and let us stick to the real honest issue of freedom of expression and free thought and our rights as film makers versus the censorship. No I am not a member of AAP or Congress not do I associate with any other political party. I have made more films without a fees than anyone else and I don't take money that is not earned from anyone.
The hypocrisy of sworn BJP supporter Pahlaj Nihalani
It is strange that Nihalani should consider AAP targeting SAD on the issue of drug menace and Kashyap producing a film on Punjab's drug problem as some kind of a political conspiracy or a reason for a political alliance between the two.
Nihalani's own past is ridden with numerous instances of blatant and outrageous display of 'love' for Narendra Modi. His induction as the Censor Board chief faced criticism for two reasons:
1. His propensity to display his love for Modi, whom he refers to as his 'action hero'.
2. And a poor filmography that boasts of gems like Khooli Khirkee and Ankhein.
He made news in 2014 for making a video 'Ghar ghar Modi, har ghar Modi' meant to pay respect to the then prime ministerial candidate of BJP -- Narendra Modi. After taking over as the chief, he made another video of the Prime Minister: 'Mera desh hai mahan'. The Modi video was played during the interval of Prem Ratan Dhan Payo in PVR cinemas.
In an earlier interview with this reporter, talking about his love for Modi, Nihalani said: "Everyone is pro-Modi and pro-BJP today. Even members of the Congress are merging into the BJP. In a few years, with Modi's work, everybody will merge with the BJP. Even regional parties are merging with the BJP. Everybody believes in the vision of Modi."
After assuming the post as chief of CBFC, the worst fears of the film industry came true -- from chopping off James Bond's kiss to running into frequent confrontations with filmmakers for suggesting unwarranted cuts, Nihalani was in the centre of many controversies. For every controversy, Nihalani had just one answer -- I am going by the rule book.
Technically, there might be nothing wrong in a sworn government supporter acquiring an influential position that has nothing to do with governance, but with art and culture. At the same time, it is downright hypocritical for the same person to question someone else's political affiliation.
By calling Kashyap AAP stooge, Nihalani has overstepped his brief
By attaching political motives to a completely artistic venture, Nihalani, has perhaps, overstepped his brief this time. The AAP has stepped up its attack on drug abuse in Punjab following his statement. Here's what Delhi Chief Minister Arvind Kejriwal tweeted about Nihalani's allegations.
Pahlaj Nihlani's statement makes it amply clear that he has stopped the film on BJP's instructions

— Arvind Kejriwal (@ArvindKejriwal) June 8, 2016
The entire film fraternity along with a member of the Censor Board and a vocal critic of Nihalani, Ashok Pandit have spoken in unison against the treatment meted to Udta Punjab.
You cannot massacre the film by giving so many cuts and saying that you cannot use the name of a state:Ashok Pandit,CBFC member #UdtaPunjab

— ANI (@ANI_news) June 6, 2016
I appeal to the Ministry to remove Pahlaj Nihalani, he doesn't deserve to be the CBFC chief: Mukesh Bhatt pic.twitter.com/ammGTSXlGy

— ANI (@ANI_news) June 8, 2016
We can't turn into a Saudi Arabia where there is opulence but no free thought in society: Mahesh Bhatt #UdtaPunjab pic.twitter.com/yDxXqu1jxL

— ANI (@ANI_news) June 8, 2016
If not anything, Nihalani has single-handedly managed to bring the film fraternity together that seldom talks on issues like this so openly.
Normally film industry offers silent support,for first time we all have come out openly on a issue:Satish Kaushik pic.twitter.com/TCPZzwCBVy

— ANI (@ANI_news) June 8, 2016
The court also rapped the Censor Board. The Centre has denied any role in the certification row, many media outlets reported.
By targeting Kashyap's alleged political affiliations, Nihalani has ended up advertising his own political leanings and undermining his role as the Censor Board chief.