A historian in Punjab has reportedly stumbled upon an ancient copy of the Holy Quran. And it has emerged that the Islamic text, believed to be printed in 1911, was translated into Gurmukhi, funded and published by men hailing from Hindu and Sikh backgrounds.
According to a report in The Tribune, the 784-page volume was translated from Arabic to Gurmukhi by a Sikh scholar. A Hindu businessman and a Sikh man collected funds for the printing of the text, which was printed by a Sikh publisher.
According to The Tribunereport, the text - previously believed to be translated into Gurmukhi by the Ahmadiyya sect - can be traced back to a village in Moga district.
According to a report in the Times of India, the book managed to cross religious boundaries and landed up with academician Subash Parihar - a Hindu scholar - who is currently teaching in a college in the Kotkapura city of Bhatinda.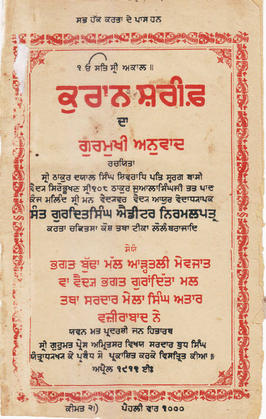 Tracing the journey of this unique Quran
The TOI quoted Parihar as saying, "This Quran was translated into Gurmukhi from Arabic by Sant Vaidya Gurdit Singh Alomhari, a Nirmala Sikh (sect of Sikhism devoted to literary pursuits). The printing expenses were borne by two Hindus, Bhagat Budhamal Adatli Mevjat and Vaidya Bhagat Guraditta Mal, with another Sikh man, Mela Singh Attar Wazirabad."
As least 1000 copies of what Parihar calls the oldest translation of the Quran Sharif were printed at Rs 2.25. "I do not think that there can be a better example of Muslim-Hindu-Sikh goodwill in the beginning of the 20th century," he said.
Till a few years ago, the copy was in possession of poet Jhanda Singh Aarif of Kotkapura. His elder son, Natha Singh gifted this rare copy of Quran to Noor Mohammad of Lande village of Moga district. Noor gave this copy to Parihar when he was looking for material while he was working on an encyclopaedia on Sufism to be published by Punjabi University, Patiala.