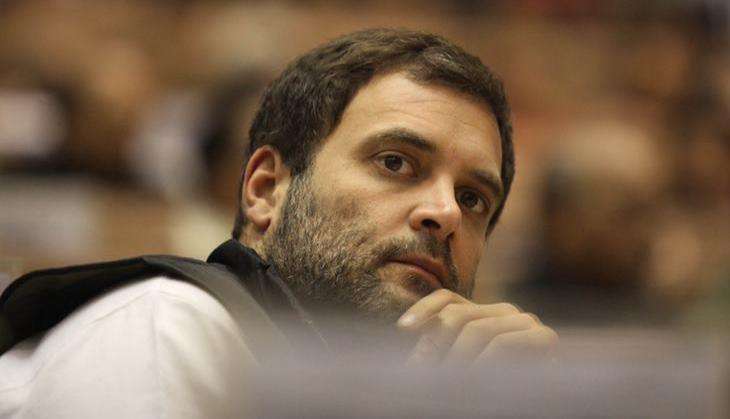 Rahul Gandhi on 14 December, during a media briefing, disclosed that he has information on Prime Minister Narendra Modi's personal corruption. He further insisted that being a Member of Parliament, he should be allowed to speak in the Lok Sabha.
The Congress vice president claimed the government is not letting him speak inside the House as he has crucial information and PM Modi is afraid of his disclosure.
Reiterating his statement, Gandhi said, "Read my lips... the PM is personally terrified of the information I have, we have. It is personal corruption of the PM that we have detailed information on."
While Congress and BJP are trading barbs, the Twitterati just can't enough of Rahul Gandhi. Take a look:
If you have information against Modi ,who is stopping you from telling it to Media and the people #RahulGandhi ji .Seems you will never grow

— krishna chaitanya (@cattamanchi) December 14, 2016
Bole mere lips, I love uncle chips- that was what I could read when raga said #readmylips #RahulGandhi

— kapil (@kapilnarang2222) December 14, 2016
Congress VP Rahul Gandhi : entertainment ka complete dose 😂 Psychopath #wintersession

— Kalpana Chowdhary (@kalpanadivith) December 14, 2016
Sir, India took this lesson seriously and didn't elect Rahul Gandhi in 2014 elections. https://t.co/Mf1fsC1rFB

— PhD in Bak*****!! (@Atheist_Krishna) December 14, 2016
After failing to trigger and earthquake, #RahulGandhi comes to #LokSabha armed with a `bomb' against the Prime Minister @narendramodi

— Shankar Raj (@shanksnews) December 14, 2016
Have personal information on corruption by PM Modi, says Rahul Gandhi
Wow Lets see what he has found on POGO Channel yesterday night...

— Gini Khan (@giniromet) December 14, 2016
#RahulGandhi may or may not have proof against Modiji but we have enough proof to show that he has a hollow brain 😝😂

— Soumyajeet Padhy (@soumyajeetpadhy) December 14, 2016