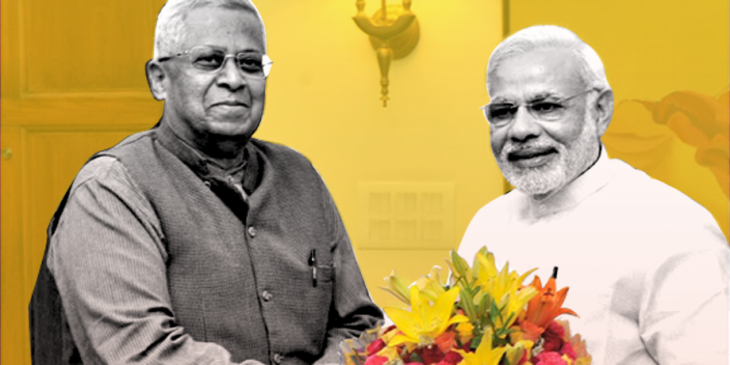 Tathagata Roy, the Governor of Tripura, invited a barrage of Twitter comments when he made a certain remark about those who had assembled to mourn Yakub Memon's death by hanging.
Roy declared that those who appeared before Memon's corpse, barring relatives and close friends, should be watched by the state for being 'potential terrorists'.
Intelligence shd keep a tab on all (expt relatives & close friends) who assembled bfr Yakub Memon's corpse. Many are potential terrorists

— Tathagata Roy (@tathagata2) July 31, 2015
While Roy claimed later that it was not a communal comment, Twitter wasn't too thrilled.
Shame that @tathagata2 brands Yakub mourners as potential terrorists, not violent Hindu Mahasabha cadre who call for Islam-free India!

— Kavita Krishnan (@kavita_krishnan) July 31, 2015
@tathagata2 Sir, you seem to be a larger threat to this nation. Intelligence, beware. #shame

— Gargi (@gargipaigude) July 31, 2015
Constitutional institutions have been infested with creepy communal bigots like @tathagata2 *shudder*

— Baba Manhattani (@BabaGlocal) July 31, 2015
Here's Roy's response:
Yes absolutely,with every word of it-Tripura Governor Tathagata Roy on whether he stands by his tweet on Yakub Memon's funeral

— ANI (@ANI_news) July 31, 2015
When I suggested 'intelligence keeping a tab',I mentiond NO COMMUNITY. So how come I'm accused of being 'communal bigot'? Guilty conscience?

— Tathagata Roy (@tathagata2) July 31, 2015
Oh,what an explosion! I am gratified! But consider seriously: 1.Did I talk abt any community? 2. Did I ask for action or just keeping tabs?

— Tathagata Roy (@tathagata2) July 31, 2015