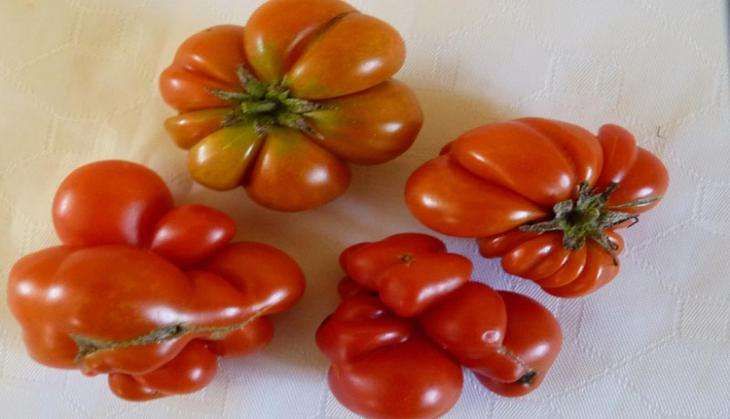 Tomato prices have more than doubled across the country in the last fortnight, with retail prices crossing Rs 80/kg at many places in south India. Additionally, there's no respite in sight for the next two months.
The rise in tomato prices have led to an overall increase in vegetable prices as traders and farmers say prices of all vegetables will remain firm during the next two months.
According to the Economic Times, retail tomato prices in Kochi were Rs 80/kg to Rs 85/kg on Monday. The wholesale tomato prices in Kerala are ruling in the range Rs 40/kg to Rs 80/kg. The wholesale prices are between Rs 40/kg to Rs 60/kg in Maharashtra, Karnataka, Andhra Pradesh, Telangana and Odisha. However, tomato prices in Delhi are relatively lower due to fresh stock from Himachal Pradesh, which has compensated for the declining stock from Haryana.
High temperatures in the last two months i.e. during April and May, have affected tomato production adversely in the key growing belts of north India and Maharashtra.
Though the prices have affected north India as well, the rise have been relatively lower at about Rs 30/kg to Rs 40/kg in wholesale as compared to the southern parts of the country.
"With temperatures exceeding 40 degree Celsius, 90% of the flowers and leaves of plants dropped during 10 April to 15 May. The crop availability is so little that hardly 10% of tomato farmers will benefit by the current high prices," said Sriram Gadhave, president, All India Vegetable Growers' Association.
"Vegetable prices will remain firm for next two months," said Gadhve.
Growers told ET that the severe drought in Maharashtra has affected the overall production of vegetable crops in the region.
Till two months ago, tomato prices were Rs 4/kg to Rs 6/kg for farmers. "Due to high heat, we could not send tomatoes to longer distances, which resulted in throw away prices, despite low production. Now our production cost has increased by 20% due to high incidence of viral infection. However, the production has declined by about 10 to 12 tonnes/acre to just about 2 to 3 tonnes/acre," said Ajay Belhekar, tomato growing farmer from Narayangaon in Maharashtra.
"As against a daily arrival of 500 vehicles during a normal season, the current arrival of tomatoes at the Junnar APMC has reduced to just about 60 vehicles," ET quoted Belhekar.
"Cities like Hyderabad are now getting tomatoes from Delhi as supplies from Maharashtra have declined," said Subhash Chugh, tomato trader from the Azadpur APMC, Delhi.