Prime Minister Narendra Modi gave one of his weakest speeches when he addressed a public meeting at Mhow in Madhya Pradesh after launching Gram Uday Se Bharat Udaya Yojana; the content of his speech was more like a report card of his performance peppered with lines from his previous speeches.
The only thing that held his speech together was the attempt to appease Dalits and appropriate Ambedkar's legacy. He started off by singing praises of Ambedkar. The adjectives were all well tuned. He said, "Ambedkar was not just a man, he was a pledge. He was not just living, he associated all his life to the struggles." However, he added a certain shade to it when he said that Gandhi's ideas on gram swaraj and Ambedkar's on the Constitution have not all been achieved yet.
He spoke on the development of villages and said that the stream of development should be focussed towards villages. He mentioned that the country still has 18,000 villages which lack electrification. He referred to his promise to provide electricity to all these villages in 1,000 days and hoped that this feat would be achieved before the target date.
From Jan Dhan Yojana to many other schemes, the PM praised his own government. He spoke about how Rs 2 lakh is reaching every poor household while at the same time, he blamed the previous government for "ignoring the poor and the villages for more than 60 years".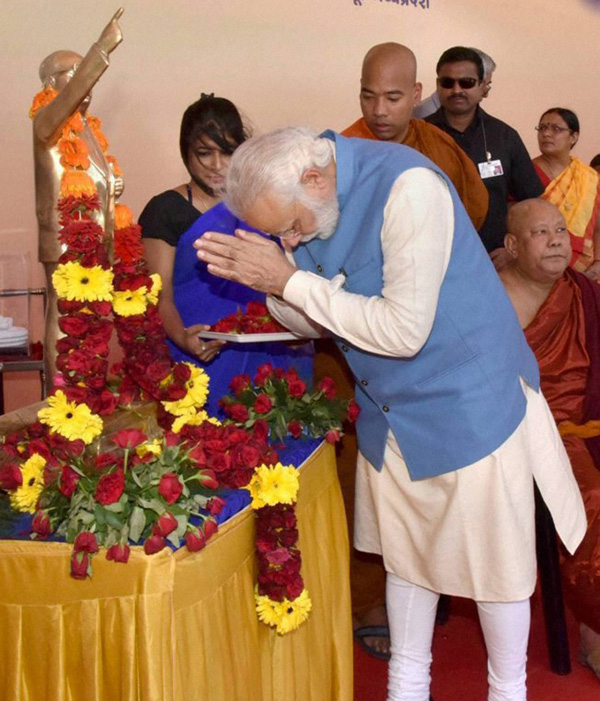 The stage was adorned with a huge banner carrying pictures of Ambedkar and Modi as well as Chief Minister Shivraj Singh Chauhan who was seated next the Prime Minister on stage. A floral tribute to Ambedkar's statue was made and a Buddhist monk was facilitated during the ceremony.
However, it seemed like Modi was trying too hard to appropriate Ambedkar when he said that his was the first government to build a memorial for the social reformer, 60 years after his death.
He said, "They didn't do it. Now when we are doing it they have a problem with it. They should feel guilty for not doing it".
He added, "It is because of Ambedkar that the son of a lady who used to work as a house help is now the Prime Minister of the country. The credit goes to Ambedkar".
As his speech wore on, people could be seen leaving the pandals.
Comfortable seating and nice pandals couldn't keep them from leaving before his speech was done. Some chose to take selfies and pose for the cameras rather than listen to the Prime Minister speak.
Modi made no mention of the death of Dalit PhD scholar Rohith Vemula or the crisis at JNU.
Modi addressed the poor and tried to appropriate Ambedkar and finished his speech by raising the slogan 'Jai Bheem' six times. But as soon as he sat down, his colleagues on the stage made sure that the slogan 'Bharat Mata ki Jai' was raised loudly and repeatedly. 
What he did was praise Ambedkar and practice hardline Hindutva and nationalism in the same breath. This has been a part of RSS and BJP's strategy. However, only time will tell us whether their strategy has worked or not.