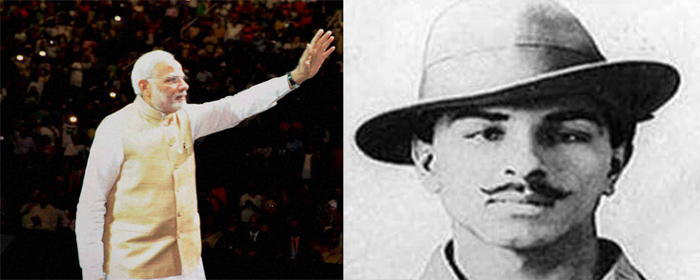 Prime Minister Narendra Modi started his address at SAP Centre, San Jose, with a salute to Bhagat Singh. He said, "Today is 27th September and it's 28th September in India which is the birth anniversary of Shaheed Bhagat Singh. I bow down to him."
He later tweeted:
I bow to Shaheed Bhagat Singh on his birth anniversary. He sacrificed his life so that we can lead a life of freedom, liberty & dignity.

— Narendra Modi (@narendramodi) September 28, 2015
Despite the respect and reverence, on a political measuring scale, Narendra Modi and Bhagat Singh stand on opposite ends when it comes to ideology.
Not Right, but completely Left
The books Bhagat Singh read gives us a hint of his Left leanings. Marx, Bukharin, Trotsky, Upton Sinclair; almost all the books he read during his short life of 23 years were by writers fascinated by the Left of things.
In fact, the book he was reading just before his execution was on the Russian Revolution by Lenin.
"We want to snatch and handle it (government machinery) to utilise it for the consummation of our ideal, i.e., social reconstruction on new, i.e., Marxist, basis," Bhagat Singh wrote in an essay titled 'To Young Political Workers' in 1931.
In the same essay, he goes on to say that independence should 'proceed in right earnest to organise the reconstruction of the whole society on the socialist basis.'
On Puranas and old tradition
While Modi and his cohorts swear by the Vedas and Puranas, deriving their logic, motivation and patriotism from the sacred texts, Bhagat Singh did not feel the same.
In his famous essay, 'Why I am an Atheist' written in 1931, the year of his death, he argues against the existence of an omnipresent God. Bhagat writes, 'The so called theory of 'Puranas' (transmigration) is nothing but a fairy-tale. I do not have any intention to bring this unutterable trash under discussion.'Moreover, Bhagat Singh had nihilistic ideas about old beliefs, as opposed to the present government's infatuation with the mythological greatness of a 5,000-year-old Hindu civilisation.
'Any person who claims to be a realist has to challenge the truth of old beliefs. If faith cannot withstand the onslaught of reason, it collapses. After that his task should be to do the groundwork for new philosophy.'
Bhagat Shingh, in this sense, was much closer to Ivan Turgenev's Bazarov than any character from Indian mythology or contemporary fiction.
Anti-communal and pro-secular
While the saffron brigade of Modi leaves no stone unturned while letting the minority know their place vis-a-vis the majority, Bhagat Singh's views on communalism and communal leaders were very bitter.
His remark in 1920 on communalism seems to truer than ever in today's Indian politics; 'there were a few sincere leaders, but their voice is easily swept away by the rising wave of communalism. In terms of political leadership, India had gone totally bankrupt.'