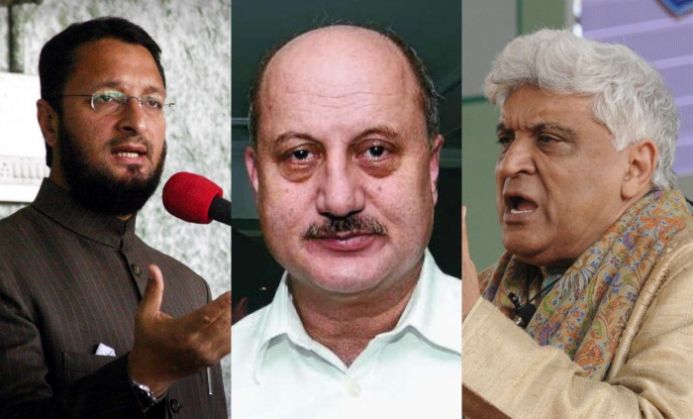 There is something strange brewing in the country. If we're not careful, before we know it nationalism will be appropriated from right under our nose, and get a makeover. Whether the makeover shall be from the ones who don't believe in Bharat Mata ki Jai, or the ones who do, remains to be seen.
In the last few days, nationalism has been defined by so many, it seems to have slipped everybody's mind that nationalism is not a community activity, but an individual prerogative. In an ideal world, everyone would be allowed to have their own opinion and loving thy neighbour wouldn't be that difficult. But this isn't an ideal world.
Here's a timeline of everything that's gone down post RSS chief Mohan Bhagwat's speech:
March 3rd - Bhagwat, JNU and Bharat Mata ki Jai
While Bhagwat did NOT mention the JNU row even once, his comment, "Now the time has come when we have to tell the new generation to chant 'Bharat Mata Ki Jai'. It should be real, spontaneous and part of all-round development of the youth", was taken as a reference to it.
You could agree with the need to teach your kids to chant salutation to your country, or not. As a part of the world's largest democracy, it is your choice. This advice from Bhagwat to most would have felt just that - a piece of advice. Asaduddin Owaisi, however, decided it was a challenge.
March 14 - Asaduddin Owaisi and the art of brewing controversy
At a rally in Latur district in Maharashtra, the Lok Sabha MP from Hyderabad told his supporters that he won't chant Bharat Mata ki Jai to loud cheers. "I don't chant that slogan. What are you going to do, Bhagwat sahab? I won't utter that even if you put a knife to my throat. Nowhere in the Constitution does it say that one needs to say Bharat Mata ki Jai."
Of course, it doesn't. It's the Constitution of a democratic nation, for god's sake. But before you miss it: from asking everyone to teach the future generation a salutation (March 3), to the refusal to offer salutations even at knife-point (March 14). You've got to admit that escalated quickly.
March 15 - Enter Javed Akhtar - lyricist, wordsmith, atheist
Javed Akhtar's 'retirement' speech shall go down in history as a thank-you-disguised-as-a-potshot. Aiming directly for Owaisi's precariously placed retort, Akhtar said that "the Constitution doesn't ask him to wear sherwani either... I don't care to know whether saying 'Bharat mata ki jai' is my duty or not. It is my right."

He also shut down right-wingers who were perpetually asking Muslims to head to Pakistan, as well as minority leaders who kept downplaying India: "Look at those countries where religion is given importance, where the tongue is cut and people are hanged if they speak against the religion. Whether that country should be an example for us or a country where there is religious freedom. We have to think."
Thinking would have definitely helped a few. Either way, this debate was still raging when actor-activist and closet BJP-wala Anupam Kher jumped the gun and told everyone that there is only ONE definition of nationalism.
March 16 - Anupam Kher re-re-redefines nationalism. Because, why not.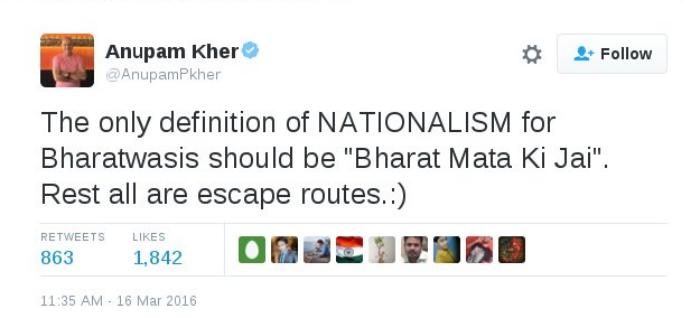 In a tweet, Anupam Kher let everyone know that it is his way or the anti-national highway, "The only definition of nationalism for Bharatwasis should be 'Bharat Mata Ki Jai'. Rest all are escape routes".
So basically, the logic at work here is dissent is equal to sedition. Debate is equal to threats. Also, everyone with a different opinion than yours is looking for an escape route? So yet another dig at Muslims? And while we were still digesting this, came the news of AIMIM MLA Waris Pathan, from Byculla, Mumbai, being suspended from assembly for not saying 'Bharat Mata ki Jai'.
From advice, to threat, to indignation to ideology - the nationalism debate has come a full circle - and heading down a concentric one.
Bharat mata ki Jai, Jai Hind used to be our slogans. Spoken freely, whenever we wished to, whenever we wanted to. Nationalism, when did you become forced assimilation?
--
Edited by Abha Srivastava