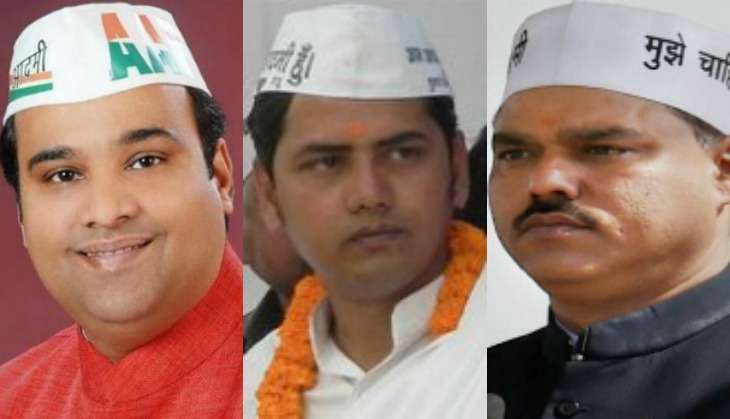 The Aam Aadmi Party suspended its Minister of Child Welfare and Social Justice, Sandeep Kumar, on 31 August after he was allegedly spotted in what is purported to be a sex tape. Kumar is the third AAP minister to have been sacked in the last 18 months, since Kejriwal was reinstated in Delhi.
Here is a look at the other ministers who have been suspended from the party:
Kejriwal Ministry-

1.LawMinister-Fake Law Degree
2.CivilSuppliesMinister-Corruption
3.Women&ChildDevelopment Minister-#SexCD
Just 18months

— Ajay Maken (@ajaymaken) August 31, 2016
Jitendra Singh Tomar
In February 2015, a writ petition was filed before Delhi High Court alleging that he had given "false information" in his affidavit while filing his nomination. The plea claimed that Tomar had submitted a "fake and bogus" degree, after which he was charged with cheating and fraud.
Also Read: Soni Mishra suicide case: AAP MLA Sharad Chauhan's bail plea hearing adjourned till Monday

He submitted his resignation in June that year.
Asim Ahmed Khan
The former Delhi food and civil supplies and environment minister was sacked from the party in October 2015 for allegedly taking a bribe of Rs 6 lakh. Khan allegedly took the bribe to allow the construction of a building in his constituency.
The legislator later accused that the AAP government was hatching a political conspiracy against him. He also alleged that they had issued death threats to him and his family.
Also Read: AAP MLA Dinesh Mohaniya allegedly slaps senior citizen

Terming the allegations as "trash", AAP spokesperson Deepak Bajpai told PTI that Khan is left with no other work but to attack the Aam Aadmi Party.
"He was sacked by the Delhi government for corruption. The only job he has left is to team up with the corrupt BJP and attack the AAP," Bajpai said.
A crisis in AAP?
On 14 February 2015, Arvind Kejriwal took oath as the Delhi CM, along with six other ministers. Of the six, Khan, Tomar and Kumar have been suspended, while a fourth minister, Gopal Rai, resigned. Kejriwal is now left with just two.

Also Read: Jignesh Mevani resigns from AAP. Wants BJP to suffer for Dalit atrocities

"Three of the six ministers of Kejriwal government have already been sacked. One for forgery, second for bribery, whereas the third for adultery. But all three of them not only continue to be members of AAP, they also enjoy a status in the party. What stops Mr Kejriwal from removing them from the party? Does AAP act only when the misdeed committed by its legislators becomes undeniable and indefensible?" Anupam, national executive member of Swaraj Abhiyan, an AAP splinter group told Firstpost.