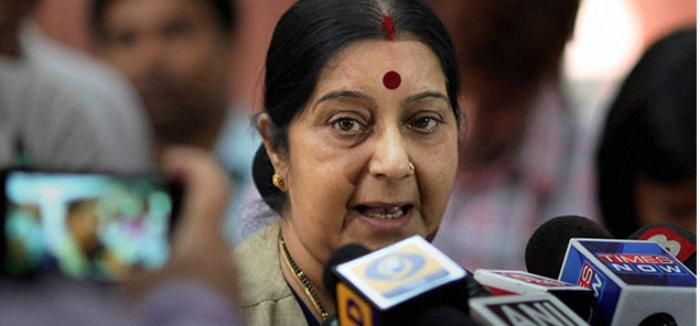 Parliament on Wednesday allowed for External Affairs Minister Sushma Swaraj to defend charges levelled against her. The Congress has been accusing her of helping former IPL founder Lalit Modi acquire travel papers from British authorities.
Here are the major highlights from Sushma's counter:
1.No conflict of interest
Sushma said that the allegation of conflict of interest was totally baseless as her husband Swaraj Kaushal hadn't "charged a single penny in the passport case". As for her daughter, the Minister said she was merely a junior lawyer on a panel of senior lawyers, at the time of representing Modi. "My daughter's name appeared 9th on the list", she claimed in the Lok Sabha.
Swaraj retorted by raising charges of conflict of interest against former Finance minister P Chidambaram, whose wife Nalini Chidambaram, was allegedly involved in the Saradha scam case.
2. On Rahul Gandhi's charge of discretely helping Lalit Modi acquire travel papers
Sushma Swaraj challenged the opposition by stating that nothing was discreet and it was all out in the public. She invoked the Bofors scandal and the instance of Warren Anderson being "flown out of India" after the Bhopal gas tragedy. It was Congress that acted "discretely" to help foreign companies evade punishment according to her.
Taking a jibe at Rahul Gandhi she said: "I want to tell Rahul Gandhi. You love going on vacations. On your next vacation, when you are alone, read the history of your family, come back and ask: Momma, how much money did we get in the Quattrochi case. Why did daddy (Rajiv Gandhi) let go the killer of 15,000 people (in Bhopal gas leak)."
3.On Chidambaram's letters not being made public
Sushma claimed that Chidambaram never marked his letters to the External Affairs Ministry. It was only when his British counterpart replied to his letters that the correspondence came to light. She also claimed that the UPA never wanted to take any action against Modi.
Chidambaram's personal enmity pushed him to send multiple letters to the British authorities, she claimed. Sushma also targeted former Union Minister P Chidambaram, saying he had failed to bring back Lalit Modi from United Kingdom as he did not try for his extradition as suggested by the host government and confined his requests to deportation.
4. On not challenging Delhi HC's order to return Lalit Modi's passport
One major charge against Sushma Swaraj was that her ministry didn't appeal against Delhi High Court's ruling that Modi's passport was wrongly held back by the Enforcement Directorate. Sushma Swaraj said that under the UPA rule, the ED didn't act against Modi.
It was only after the Narendra Modi government came to power that that ED moved court to seek a non-bailable warrant against Lalit Modi. She assured the House that action will be taken against the scam-tainted IPL founder.