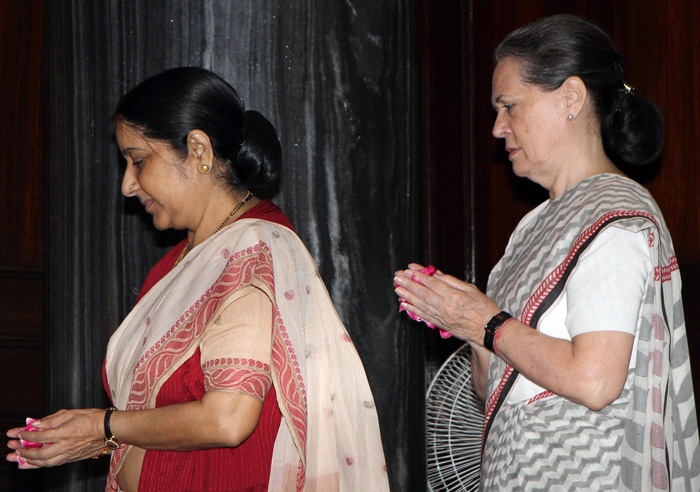 A day after Sushma Swaraj made an emotional statement in the Parliament on 6 August defending her intervention in aiding scam-tainted IPL founder Lalit Modi acquire travel papers, Congress vice president has called her "an expert in theatrics".
Congress President Sonia Gandhi and External Affairs Minister Sushma Swaraj have exchanged many a barbs in their political rivalry -- the most famous being the latter's threat to shave her head if Gandhi became the Prime Minister after the Congress won the 2004 General Elections.
Yesterday in Parliament, in the absence of the Opposition, Suhsma Swaraj said that she helped Lalit Modi entirely on humanitarian ground - something she has been claiming all along. Denying any wrongdoing, she also questioned Gandhi what she would have done in her position.
Congress vice president Rahul Gandhi too joined his mother in criticising Swaraj's statement in Parliament. He rejected the statement as "hollow". Gandhi also said as a son he can assure Swaraj that his mother would have never helped Lalit Modi if she were in her place.
The Opposition has been demanding Swaraj's resignation for helping Lalit Modi acquire travel papers from UK authorities. 25 Congress MPs were suspended by Speaker
Sumitra Mahajan
for disrupting Parliament. Since then, Congress has boycotted Lok Sabha and has been protesting against the suspension outside Parliament.