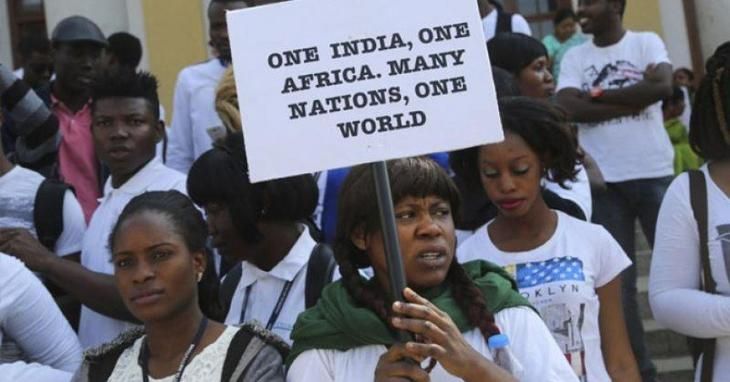 External affairs minister Sushma Swaraj wrote to the chief ministers of six states on Wednesday, asking them to act swiftly in cases of violence against Africans. The letter was sent days before President Pranab Mukherjee travels to Namibia, Ghana and Cote d'Ivoire between 12 and 17 June, and the Prime Minister prepares to travel to Kenya, South Africa and Mozambique next month, while plans are being finalised for high-level political visits to Ethiopia, Algeria, Sudan and Nigeria later this year.
Swaraj wrote to the chief ministers of Karnataka, Maharashtra, Delhi, Goa, Uttar Pradesh and Telangana, which together host more than 95 per cent of African students and visitors in India, according to The Telegraph.
These visits are part of the government's plan to send high-level missions to all the 54 African nations before the next India Africa Forum Summit in 2020, said MEA officials.
The reasons for India's drive for better diplomatic relations with African nations are manifold. First of all, if India is to become a global superpower, it needs all the support it can get. Secondly, Africa is becoming an increasingly crucial source of oil and minerals. And third, the continent is a big market for Indian companies.
However, India's record of racist violence against Africans has become a sticking point since the murder of a 29-year-old Congolese student-cum-teacher in Delhi this May, after which African diplomats in New Delhi threatened to boycott all events organised by the Indian government, and to ask their governments to dissuade nationals from travelling to India for studies.
Swaraj's letter to the chief ministers is the latest in a series of steps to address the concerns of African visitors to India, said Amar Sinha, secretary (economic affairs) who is in charges of relations with African nations.
"She has, in the letter, also asked for sensitisation programmes to be launched in neighbourhoods where many Africans live," said Sinha. "This is an important follow up step to the measures we are taking."
The joint secretary responsible for relations with state governments has been asked to regularly urge state chief secretaries for quick action in all cases of attacks on Africans, said Sinha. Junior foreign minister VK Singh has also been deputed to meet all African ambassadors in India every three months.