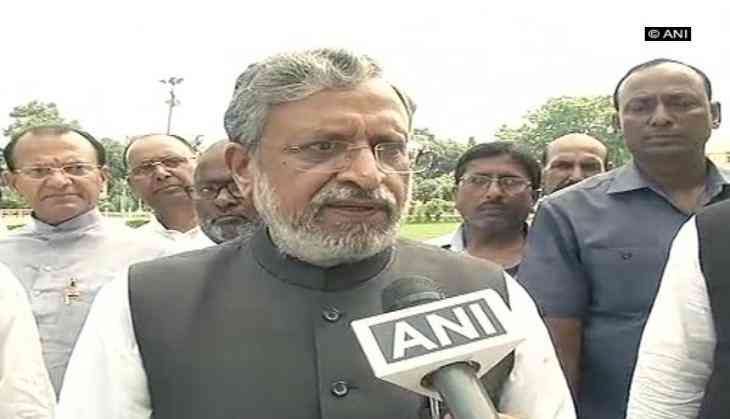 Bihar Deputy Chief Minister Sushil Modi has called his predecessor and Rashtriya Janata Dal (RJD) supremo Lalu Yadav's son Tejashwi Yadav's protests in the Assembly premises demanding the latter's resignation in connection with the Srijan scam as 'shameful.'
Speaking to ANI, the Bharatiya Janata Party (BJP) leader said, "People are facing hardships due to floods, the Chief Minister is conducting surveys, whole Bihar government is busy in providing relief to the victims, over 1.5 crore population of Bihar is affected by floods and the main opposition party (RJD) is organising a rally at this time. This is shameful."
"I appeal to Lalu ji to cancel his rally and have a tour of the flood-affected areas of Bihar and see the efforts of the government. I would also appeal Tejashwi Yadav, who might not have seen floods in his life. He might have never got a chance, so now he has that chance to see how floods look like," he added.
Modi further said that he appeals to "Rahul Gandhi, Mayawati, Mamata Banerjee and all the big political leaders who are supposed to attend the rally that they should rather come to Bihar to provide help at this time of humanitarian crisis. Attending a political rally in such circumstances would be similar to rubbing salt on the wounds of the flood victims."
The Rs. 1,000-crore Bhagalpur Srijan scam, which has created a political fuss in Bihar politics, involves transferring of government funds to private accounts between 2005 and 2013, when Sushil Modi was the finance minister.
According to reports, the public money which was kept in the state government and the district administration bank accounts had been diverted to the bank accounts of a Non-Governmental Organisation (NGO) Srijan, its employees and bank officials.
The NGO was founded by Manorma Devi and is being run by her son and his wife after her death.
-ANI