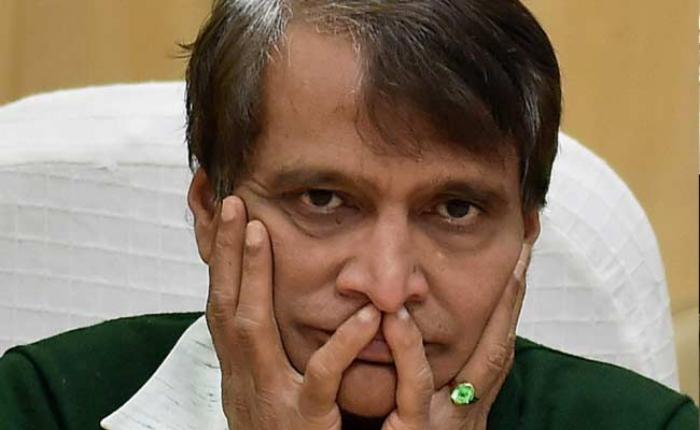 Railway Minister Suresh Prabhu, on 25 December, got frustrated with the behaviour of a 'prankster' who had tweeted asking for medical aid for his ailing friend travelling alone. However, when the DRM Bilaspur team reached the train, they found no patient who fit the profile.
Vivek Singhania had tweeted requesting urgent medical attention for Brijesh, who was travelling on "train 12129 B1 58". He claimed that Brijesh suffered from cough, cold and high fever and was travelling solo.
@sureshpprabhu @DRMBilaspur plz help train 12129 B1 58 brijesh SUFFERING from high cough and cold no one is there for help..08888808112.

- vivek singhania (@viveksinghaniap) December 25, 2015
After the DRM Bilaspur team searched the train and left, they tweeted a reaction terming his SOS message a "prank tweet".
@viveksinghaniap @sureshpprabhu prompt action by railway. Doctor & team reached in train, Raigarh station d found that it a prank tweet.

- DRM Bilaspur (@DRMBilaspur) December 25, 2015
To this, Suresh Prabhu responded with a stern message for the public, urging them to not "play games".
Please don't play games,we strive hard to serve all.ITS A REQUEST https://t.co/uD9cG9t7T4

- Suresh Prabhu (@sureshpprabhu) December 25, 2015
Tweeple started censuring Singhania for wasting the team's precious time, and for pulling such an unfunny prank.
@sureshpprabhu @mamtan14 @DRMBilaspur @viveksinghaniap too polite, sir. No fine for wasting time and resources of the govt?

- Gowri Subramanya (@gowrisubramanya) December 25, 2015
@jnsbmi @sureshpprabhu @DRMBilaspur @viveksinghaniap Crying wolf can be detrimental to real sufferers, who may be in real need of help.

- RagingBull (@Ragiing_Bull) December 26, 2015
Singhania, a day later, replied to both Suresh Prabhu and the DRM Bilaspur handle, asserting that he was no prankster, and that this was a case of serious miscommunication. He went on to provide his mobile number in one of the tweets; a number that we called.
@sureshpprabhu sr my no.is 8966905120 and I am a mango man if you want clarification m ready to clarify it but it was not prank at all.

- vivek singhania (@viveksinghaniap) December 26, 2015
@sureshpprabhu @DRMBilaspur plz its not like m making misuse of system I myself travel 60km fr brijesh help but m late and train missed...

- vivek singhania (@viveksinghaniap) December 26, 2015
Singhania told Catch that Brijesh Kumar was not a direct friend and that he decided to help him as he too was on his way to the railway station to catch a different train. A friend of Singhania's had asked him to carry medicines for this man whose train (Azad Hind) would stop at Chapa Station a few hours before his Howrah-Mumbai train passed it.
Singhania lives about 60 kms away from the station and couldn't reach Kumar's train on time. So he tweeted the SOS message out.
The team dispatched got the message that Brijesh Kumar was a senior citizen. Hence when Kumar was asked, he said he wasn't critically ill and was clearly no senior citizen. At this point, the team quickly deboarded the train.
Singhania realised what had happened over Twitter a day later when he arrived at Howrah on 26 December. Since then, he has been attempting to clarify his stance.
"Suresh Prabhu is not at fault, it's a misunderstanding," he says. "Twitter is a good way to reach out, but there should be some verification system," he adds.
Singhania's SOS tweet also had Kumar's number. On being asked why he didn't confirm his number, he said that it was unreachable on the train.
Kumar, after narrating the entire incident to us, said, "It's a clear case of miscommunication, but it's also a very positive story."
"I need to thank both parties. In today's date, there's a man trying to help someone he doesn't even know. And then, there's a team responding to an SOS from a stranger. The railways too responded very fast."