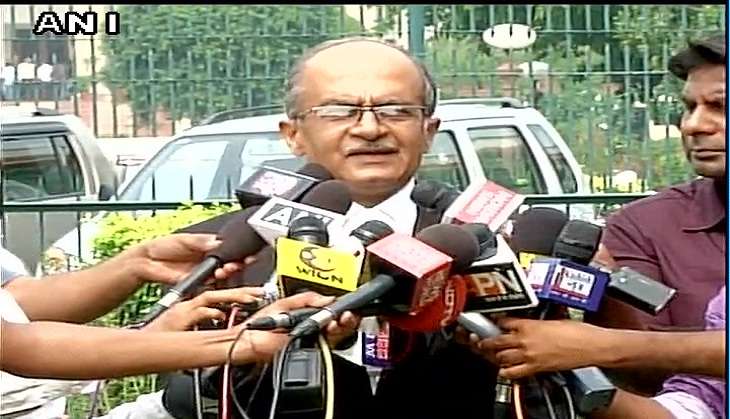 On 30 September, the apex court cancelled bail that had been granted to controversial RJD leader and former Siwan MP Mohammad Shahabuddin. Shahabuddin had been granted bail by the Patna High Court on 7 September, following which the bail order was challenged.
"He will be taken to jail forthwith," said Prashant Bhushan on Mohammad Shahabuddin's bail cancellation by the SC.
Also read - Prashant Bhushan, on behalf of victim's kin, challenges Shahabuddin bail in Supreme Court
Earlier on Thursday, the apex court had reserved its verdict on two appeals challenging the grant of bail to him by the Patna High Court in a murder case.
Shahabuddin, who was granted bail by the Patna High Court on 7 September, was released from Bhagalpur jail on 10 September. He was in jail for 11 years in connection with dozens of cases against him.
On 19 September, the apex court had sought a response from Shahabuddin on a separate plea filed by Siwan resident Chandrakeshwar Prasad, challenging the bail granted to him by Patna High Court, in the murder case of his third son.
Kalawati Devi, wife of Chandrakeshwar Prasad and the mother of three youths who were brutally killed by the controversial politician's henchmen, had also moved the Supreme Court seeking cancellation of bail granted to him in the case in which he has already been sentenced to life.
On Thursday, the top court had also rebuked Nitish Kumar-led Bihar government, which has RJD as its coalition partner, for its lax approach in opposing bail granted to the RJD strongman in various cases at different judicial forums including the High Court.
Also read - Former RJD strongman Shahabuddin walks out of jail after 11 years
Bihar government, which drew flak from the court since the beginning of the hearing on appeals, was questioned during Thursday's hearing for not providing a copy of the charge sheet to him for 17 months in the murder case of Rajiv Roshan.
Roshan, the eye witness to the gruesome killings of two of his younger siblings, was also killed few days before his proposed testimony in the murder case of his brothers.
A bench comprising Justices PC Ghose and Amitava Roy, which heard the parties for nearly three days, referred to the trial court records and said it cannot simply go by "inferences" drawn from various happenings in lower courts, as the order sheets revealed that police records were not provided to the accused.
Lawyer Prashant Bhushan, appearing for Siwan-based Chandrakeshwar Prasad who lost his three sons in two separate crimes, had vehemently opposed the contention of Shahabuddin that he was not provided the case records including chargesheet for 17 months after it was filed in the trial court.
The apex court is also hearing a separate plea filed by the widow of journalist Rajdev Ranjan, who was murdered in Siwan allegedly at the instance of Shahabuddin, seeking transfer of the case to Delhi.
--PTI